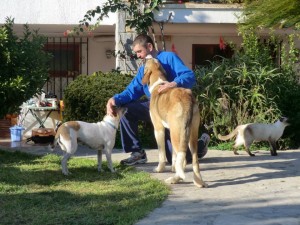 Pet Friendly Accommodations
We love to welcome guests and their pets to our Pet Friendly Accommodations, and want them to feel at home – our aim is for you all to have an enjoyable stay with us after all! Our garden is large and has plenty of room for your dog to play, and is also fully fenced or walled – so there is no chance of escape except through the gate! There are lots of dog walking possibilities in the immediate area, including a public park (usually deserted) to the rear of our property. Cats of course are welcome too, but we must ask for their own security that you confine them to your room – no garden is escape-proof for a cat after all!
We have four dogs of various sizes from small to very large and they are normally very friendly and welcoming to animal visitors. We also have a number of cats (who are obviously very used to dogs) and generally we find no problems when guests bring their own pets. Our cats tend to assume that dogs are their friends, and therefore don't run off – which is often the catalyst for dogs then giving chase and chaos ensuing!
Guests may bring their pets and they stay at no extra charge, but we need to know in advance what pets will accompany you – and how many! In this way we can ensure that not too many dogs are here at the same time, as of course we have the well-being of our other guests to consider as well. Also, it may be more suitable for a prospective guest to rent our self-catering apartment (rather than a B&B room), depending on the length of stay and the space required for your pet. So for these reasons we ask that guests inform us in advance of the pets they are bringing and we can discuss how to ensure that everybody has a thoroughly enjoyable stay.
PET OWNERS! PLEASE E-MAIL US DIRECT WITH YOUR PET'S REQUIREMENTS BEFORE MAKING ANY BOOKING!

Disclaimer:
Pet owners must take full responsibility for their pet's safety, security and well-being whilst on the premises and no liability is incurred by Villa Florencia, its owners or staff at any time or under any circumstances.