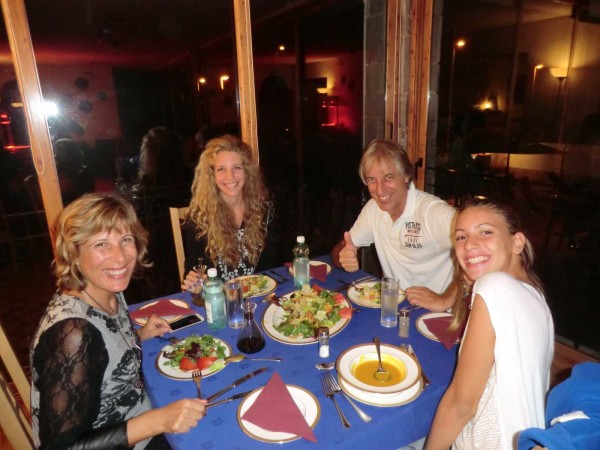 We serve breakfast on the dining terrace, which has beautiful views over the gardens, pool and the orange groves beyond. Included in the room rate is a generous Continental breakfast with a wide choice of cereals, yoghurts, fruit juices, breads, pastries and fresh fruit, as well as meat and cheese. Tea, coffee and a choice of herbal infusions are available.
The Spanish tend to dine much later than other nationalities in the evenings, and local restaurants generally do not open for business before 9.00pm. Also, it can be hard to find establishments that cater for visitors with specific dietary requirements. We therefore offer an evening meal service that many of our guests like to take advantage of.
We provide well-balanced and nutritional meals prepared from fresh and wholesome ingredients, consisting of a three course set menu with tea or coffee. We ask that guests let us know each day if they wish to dine with us that evening. We can also cater for differing dietary requirements and preferences – sometimes also a difficulty for those with particular needs here in Spain.
Vegetarian
Vegan
Lactose free
Gluten free
All our ingredients are fresh and sourced from local suppliers each day. If you have any particular dietary requirements not mentioned above, please do not hesitate to ask when making your enquiries, and we shall be delighted to cater for these wherever possible.
Light lunches are also available upon request, with fresh sandwiches and salads served on the terrace or in the garden.
Travel Spain! Looking to book vegan or vegetarian accommodation in Spain?