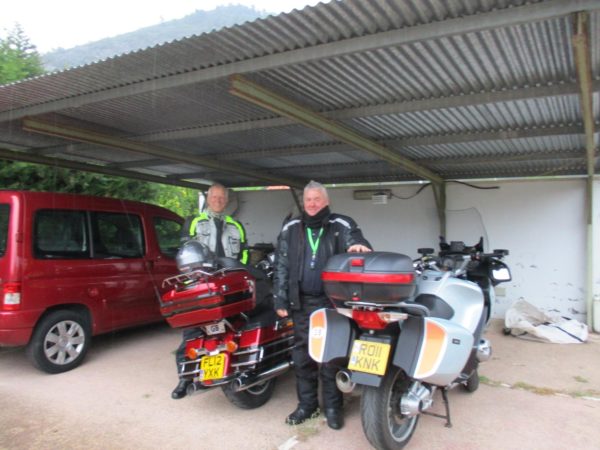 Motorbike guests on the way home!
Spain is a very biker friendly country with a tremendously good road infrastructure – and far fewer cars than in the UK or many other countries in Europe.  This makes for an ideal place to enjoy a ride on your motorbike if you are a resident here and of course a great holiday destination for a motorbike road trip.
We have always been pleased to welcome guests on a motorbike holiday and have had many such visitors in the past – often visiting us several times.  We were therefore very pleased when we received a booking from Tony and his friend Dave who wanted to stay with us as part of their trip back to England, after having enjoyed a biking holiday in the area to the south of Alicante.
They had spent time with their wives in a villa in Alicante province, having crossed over to Spain via the ferry to Santander and biked direct down from there.  Once at their destination, they hired a car for their wives to use during their visit, whilst Tony and Dave enjoyed taking their bikes out on the open and uncrowded roads in the area
Once it was time to return home, their wives flew back to England from Alicante and Tony and Dave intended to bike back home through Spain and France, thereby adding to their enjoyment of a prolonged biking holiday.  And so it was that they visited us for one night on the first leg of their return trip.  We can offer secure, undercover parking to our biker guests – or indeed to any guest who needs it – and this is something that motor bikers find gives them great peace of mind.
They also took advantage of our evening meal service and so as far as they were concerned their stay here was very easy and convenient.  We are located close to the main A7 motorway that runs along the Mediterranean coast, so all they had to do was leave the motorway and drive for approximately 15kms to our door, have a relaxing dinner before benefiting from a good night's sleep and setting out on their way home in the morning.  We hope they had a safe and enjoyable trip back and of course we look forward to meeting them again in the future when they come back for another biking holiday in Spain.