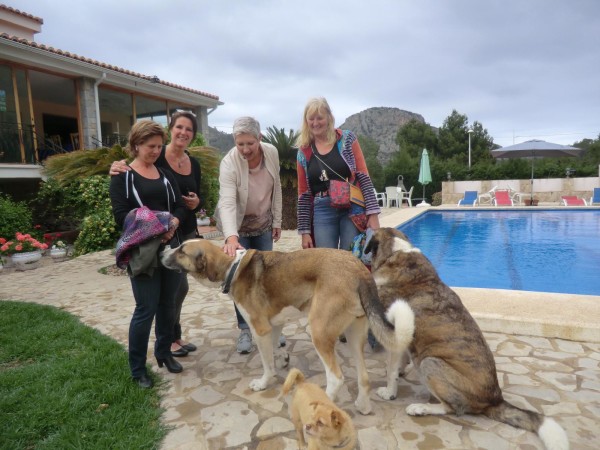 Dog Groomers from Holland
At Villa Florencia we are always keen to support our local animal rescue centre (S.P.A.M.A. Safor), where they give shelter to homeless and abandoned animals – mainly dogs and cats – in our local area. Our own dogs have all been adopted from S.P.A.M.A. Safor and they rely heavily on support from the local community as well as from overseas.
They have built up strong connections with animal rescue organisations in Holland and Germany particularly, and many of their animals are adopted by homes in these countries. Another result of these connections is that volunteers from Holland and Germany often come to Gandia to help in the centre and we are always pleased to offer our accommodation in our self-catering apartment to these volunteers at very preferential rates. For several years now a lady called Sabrina has been coming to us with her friends and family members from Germany and they have helped enormously not only with the animals but also with construction and refurbishment projects at the shelter. Another group of ladies from Holland have also been coming for several years to wash and groom the dogs and this year we were delighted that they were able to stay with us.
Anja, Edith, Petra and Stella are professional dog groomers in Holland and generously give their time and expertise for over a week at a time, often twice a year, to groom the dogs – something that is of particular benefit at this time of year when the weather is beginning to warm up for the summer heat. They arrived last Monday morning and settled into the apartment before heading off to the shelter to reacquaint themselves with the staff and helpers there in the afternoon. For the rest of their stay they would work with the dogs every morning, come back to us for lunch and a time to relax in the garden and pool in the early afternoon, before returning for the rest of the day and early evening to groom even more of the dogs being cared for by SPAMA. They did this for their entire stay of eight days and the rescue centre and its volunteers were hugely grateful for all their hard work.
It was an absolute pleasure to have Anja, Edith, Petra and Stella stay with us and we really hope they will be guests here the next time they kindly donate their time and skill to the SPAMA rescue centre animals.