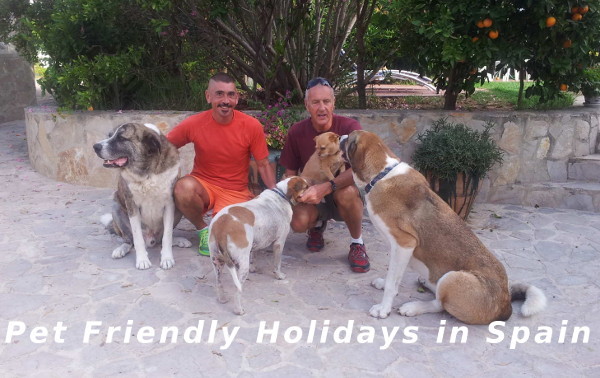 Last week we were visited by Helena and Stuart, who wanted to spend some time in the spring sunshine on their Pet Friendly Holidays in Spain. They were attracted not only by the chance to have some warmer temperatures than where they live in France, but also by the fact that they were able to bring their lovely dog Angelo along with them to enjoy our pet friendly accommodation. They also decided to have a bit of a reunion with a good friend of theirs from their native Scotland – Maggie – who flew out the following day to join them here.
Helena, Stuart and Angelo arrived on the Sunday afternoon by car from France and soon settled in to their room. Angelo made friends with our dogs in no time and before long they were all playing happily in the garden like one extended family. Angelo even grew accustomed to our cats very quickly and learned that a slow approach is needed if you want to make real friends with them! After dinner that night, they were all more than happy to retire for an early night and a well-earned rest after their long journey.
The next day was spent travelling again – but this time down to Alicante airport to collect Maggie, who arrived on a badly delayed flight from Glasgow. They all returned in the early evening, however, and looked forward to spending some quality time together in the days ahead. A trip to Gandia's beautiful beach was on the agenda for Tuesday, so after a leisurely breakfast and some time relaxing in the gardens in the warm morning sunshine they departed for the rest of the day to enjoy the lovely surroundings of Playa de Gandia, staying to have their dinner there as well.
The following days were spent in a similar way, with trips to nearby resorts and tourist centres, including Benidorm – a great place to visit in the low season – as well as Altea, Javea and Denia. Some evenings they returned to dine with us and the other guests, whilst on other occasions they spent the whole afternoon and evening in their "destination of the day" and returned to us for a drink in the bar before retiring for the night.
Angelo became so relaxed and content in his holiday surroundings that sometimes he would stay behind with us and his new-found companions in the garden, enabling Helena, Stuart and Maggie to venture further afield without having to worry about his welfare. It is true to say that they all – humans and dog alike – had a great time with us and felt really at home and managed to relax and unwind. At the end of their visit they decided they did not want to risk us being fully-booked at the end of the season, so all made a reservation to return to us in very early October. Maggie will fly to meet them first in France this time, and they will then all continue the journey to us by car, avoiding another time-consuming trip to Alicante and the risk of another delayed flight.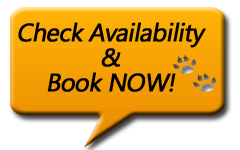 We are really glad that they had such a good time that they already want to come back for more – it was a pleasure having them visit us, and we are looking forward to seeing them again before too long on another Pet Friendly Holidays in Spain. Lola, Buckley and the rest of our pets will be glad to see the return of their new friend Angelo as well and his owners will be able to make the most of some autumn warmth and relaxation.
Click on image, to check availability and book your pet friendly holidays in Spain.