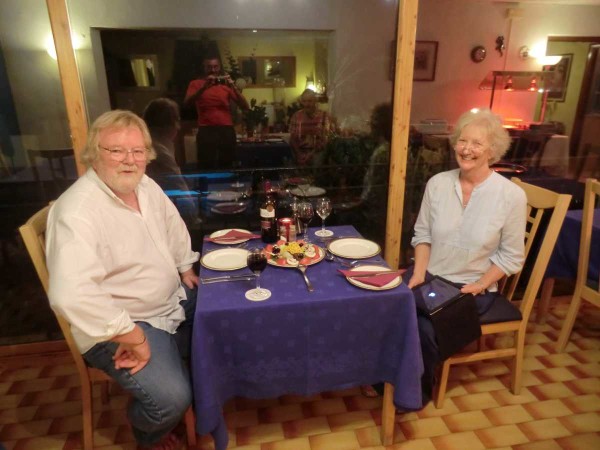 The Vegetarian Option!
We recently received a booking from Graeme and his wife Ruth to come and stay with us for one night whilst they were on their way further south as part of a driving holiday around Spain. During their correspondence and prior to confirming the reservation, Graeme asked if we offer Accommodation for Vegetarians, and we of course replied that we are happy to cater for almost all dietary preferences and requirements, given reasonable notification, so vegetarian choices would not be a problem at all.
One of the things we offer our guests is an evening meal service, which many find very convenient – especially the day they arrive. Not only does it avoid having to find a restaurant in surroundings that are still unfamiliar, but there is also the fact that Spanish restaurants tend to open considerably later than northern European visitors are accustomed to – normally not before 9.00pm. As part of our meal service, we ask that guests tell us of any particular requirements they may have and then it is no problem to produce an evening meal that fits the bill. In Spain it is not always easy to find hotels and restaurants that have vegetarian options as standard items on the menu. Nowadays in the UK most restaurants will have at least one vegetarian choice on a table d'hôte menu and probably several on an á la carte one. The Spanish tend to be keen meat and fish eaters and the concept of vegetarianism is not one that catering establishments often recognise.
Graeme and Ruth arrived just before dinner time, and had driven from the north of the country during the course of the day. All they wanted was to be able to relax and unwind with a glass of wine and effortlessly enjoy a dinner that suited their requirements. They soon settled into their room, became best friends with our pets – they are great animal lovers – and felt immediately at home with us. So much so, in fact, that they asked if they could extend their stay for an extra night as they wanted to spend a little time getting to know our part of the Costa Blanca. They had loved what they had seen of the La Safor region when they arrived, and wanted to know more!
The next day the set off in the morning to visit some friends in nearby Oliva, then they explored Gandia (both the main town and the beach area, which they loved), and even managed to fit in a trip over the mountains to see the monastery at Simat. They returned to us in the late afternoon, in time to enjoy a glass of wine before their second vegetarian dinner with us, which they again found wholesome and delicious (their words, not ours!). Our breakfasts were also perfect for them, as we serve a wide choice of cereals, breads, juices and fresh fruit so they always felt well set up for the day ahead.
When they left to continue their journey southwards, they said they had thoroughly enjoyed their all too brief stay with us but genuinely looked forward to returning to us in the future – possibly with other members of their family as well. It was a genuine pleasure to have them visit us and we look forward to welcoming them back again to our Accommodation for Vegetarians, and hopefully for a longer stay when they will be able to get to know the northern Costa Blanca and the La Safor region in particular even better.

Travel Spain! Looking to book vegan or vegetarian accommodation in Spain?