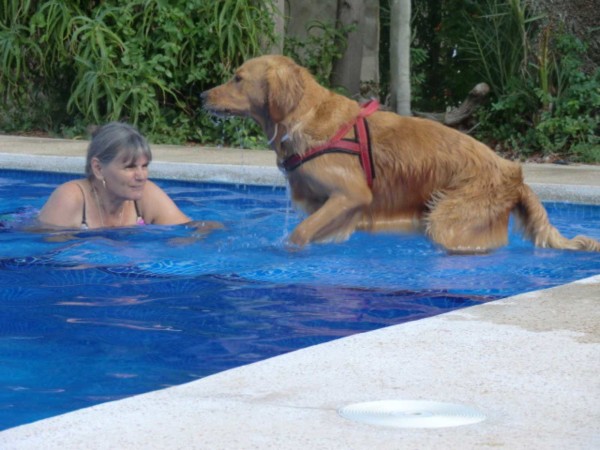 Pet Friendly Accommodation Costa Blanca
Last Thursday morning we received an unexpected phone call from a German speaking couple wanting to spend that night with us as a stop-over on their way down to Malaga, where they were renting a finca for a fortnight' holiday. They only wanted one night's accommodation as part of a driving holiday towards the south and they particularly wanted to stay the night at our pet friendly accommodation because they were accompanied by their lovely Golden Retriever/Labrador cross, who was called Pasha.
They arrived around four o'clock in the afternoon, having set off from their home in Switzerland the previous day and received a warm welcome here – not only from us but also from our own dogs, who are always happy to welcome a guest dog! After the initial excitement had died down, Pasha was content to settle in their room for a short time while his owners relaxed in the garden. However, the weather was so warm and sunny that soon they decided to have a swim in the pool and so brought Pasha down to the garden to join them.
He loves playing in streams and rivers where they live, and soon realised that our pool was especially suitable for him, with its wide steps at either side. Very soon he was frolicking around in the shallow water there and playing with Lola and Aurora, who are also swimming pool fans. Pasha was an impeccably well-mannered guest and loved having the freedom to move about in the garden and play in the water after having been in the car all day on the journey. After that, they all went for a walk in the park nearby that adjoins the orange groves here so that he could run around and enjoy the space of the open countryside.
That evening they did not go out to a local restaurant but stayed here, although they did not want to make use of our evening meal service. They had had a sustaining meal on the way so were content to have some snacks that they had brought with them. The next morning it was time for them to set off on the final leg of their journey to their holiday accommodation – although they knew exactly where they were going as it was in fact a return visit for them since they had rented the same finca last year. When they left, they said they had thoroughly enjoyed their short visit to our pet friendly bed and breakfast and might very well stay with us again on their return journey. This will depend on whether they decide at the time to take the same route home but they can be sure they will receive a very warm welcome back from us all – the dogs as well as the owners!