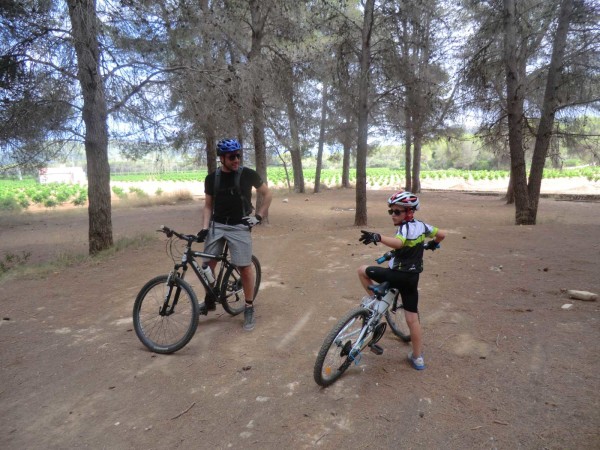 Family Mountain Biking Holidays
A short while ago we received a reservation from Louise and Adam for an August weekend in our self-catering apartment. They were going to be visiting Louise's father who lives in Alicante, but wanted a few days away in a different environment – away from the city – and where they could enjoy a more rural setting. They were bringing their children Harry (8) and Issy (6) with them, and they hoped that Adam and Harry would also be able to have a day's mountain biking over the course of the weekend. Louise and Issy intended to make the most of the sunshine and the pool!
They arrived on the Saturday morning, with the day's biking planned for the Sunday, so soon settled in to the apartment and enjoyed some time around the pool and in the gardens. However, Adam and Harry thought it would be a good plan if they could possibly spend a short time biking on the Saturday afternoon too, and although Dave from Mountain Biking Valencia was only going to be guiding and tutoring them on Sunday, he had already delivered their bikes here in readiness. Mark therefore volunteered to take them across the valley opposite here to the monastery of Sant Jeroni and the adjacent forest, where there is an area created by mountain biking enthusiasts to practice negotiating natural obstacles. They had a great time, and returned even more enthusiastic about their proposed trip that was scheduled for the following day.
That evening, they had booked a table at a restaurant in the mountains behind us called La Visteta, which is in a lovely setting on the edge of Barx village. They had a table round the pool and enjoyed a great meal in beautiful surroundings. They returned to us in time for a good night's sleep for the bikers to store up some energy for the day ahead!
Sunday was a slightly cloudy day, but still warm, but this proved to be a good thing for the biking excursion. Their route started on the outskirts of Villalonga and is a beautiful mixture of tracks and asphalt that follows part of the old railway line that once ran between the inland town of Alcoi and the port of Gandía. It also runs alongside the river Serpis for much of the time too as well as through old railway tunnels, so is a great route to test biking skills, and also a beautiful place to do it in. Mark accompanied Adam and Harry on the ride itself and Dave took his van to the village of Lorcha to pick them up after they had their packed lunch there. They all had a great day and were glad of the opportunity to return to us in plenty of time to enjoy a cooling swim in our pool afterwards.
That evening they took advantage of our evening meal service as they had thought that after a tiring day it would be so much easier than having to find a restaurant in town. We all had a most enjoyable evening together, but then it was time for them to get a good night's sleep before leaving the following morning. Although they were going to return to Louise's father's apartment in Alicante, they had plans to visit Aqualandia on the way – the famous water park in Benidorm. It had been a pleasure to have them visit us and they had thoroughly enjoyed their stay and said it was their firm intention to return to us during a future visit to Louis's father. It provided a contrast to time in the town and a great opportunity for Adam and Harry to practice their hobby that they already follow at home in England. We look forward to seeing them again soon!