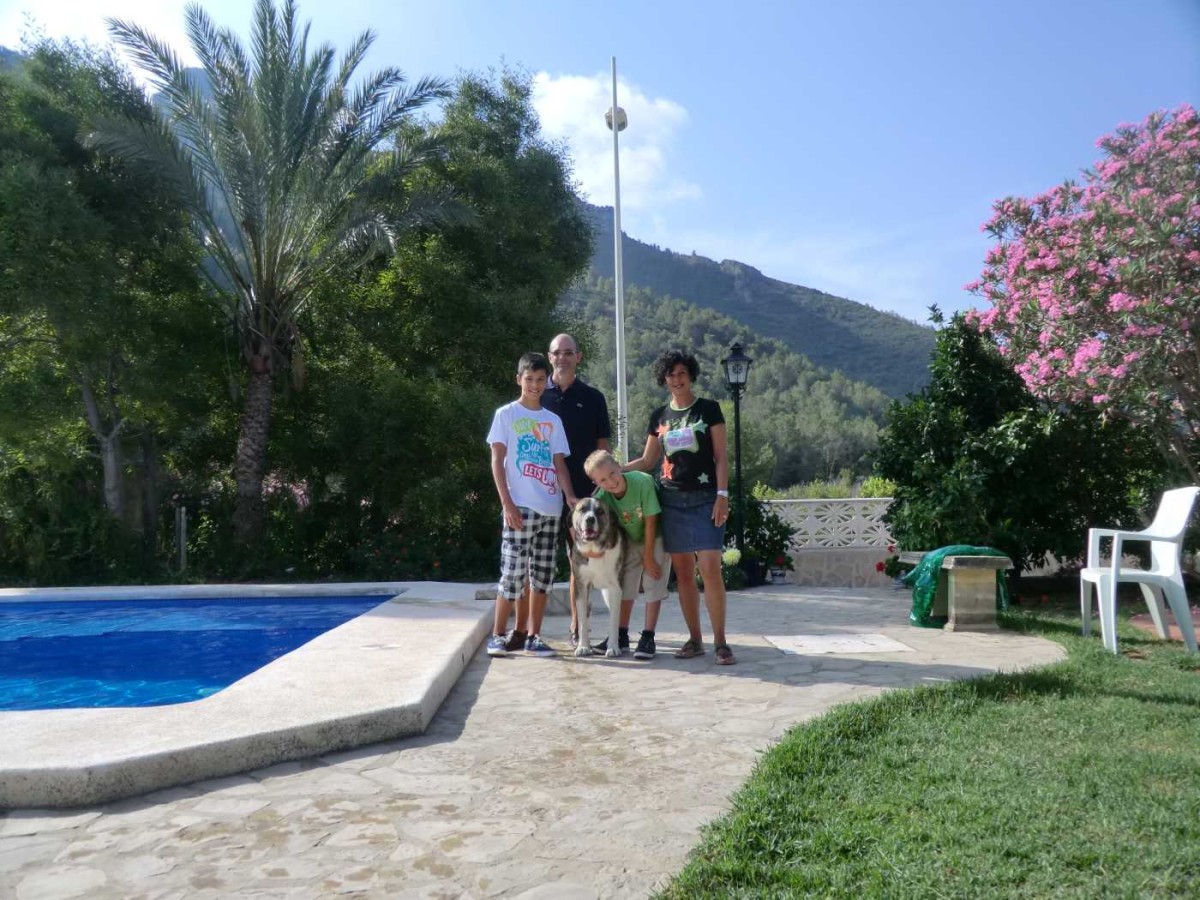 Self Catering Holidays in Spain
Some months ago we received a booking from Macarena, who wanted to reserve our self-catering apartment for a week's holiday for herself and her family.  They live in Madrid, but were planning to spend some time to the south of here on holiday, before enjoying a week with us in the La Safor region.  They had in fact been to Gandia several years ago, when their children were very young, and were interested too in revisiting some of the places down at the beach that they remembered from that earlier visit.
Macarena, her husband Rafa and sons Rafa, who is twelve and Manuel, who is nearly nine, arrived last Monday and soon settled in to the apartment and made friends with our dogs and cats.  Sons Rafa and Manuel are particularly fond of animals and so were delighted to find that they were able to play with our pets as much as they wanted!  The weather was beautiful for the entire length of their stay and so they were able to make the most not only of the pool and the gardens, but also took every opportunity to go to one of the wonderful beaches that are all within very easy reach of our casa rural.
Our self-catering apartment suited their requirements perfectly as they were able to come and go exactly as they liked, sometimes dining out in Playa de Gandia, sometimes preparing their own meals in the well equipped kitchen in the apartment.  A typical day for them would be to have breakfast in the morning before going to a beach around 10.30 and then returning to us around 3.00pm for a cool dip in the pool before siesta.  They would then often go out again in the early evening to spend the rest of the time until the early hours enjoying the restaurants and cafés of Playa de Gandia.
Rafa and Manuel were also very keen to use their English with us and their enthusiasm for putting their classroom lessons into practice did them credit.  Their vocabulary was more than impressive, as was their ability to construct sentences with ease, so they were really pleased to see their hard work in school paying off with conversations and everyday interaction.  Their parents were delighted that what they had thought would be a straightforward self-catering holiday on the Costa Blanca turned out to have unexpected benefits for their sons' English skills as well!
After their week's stay with us, it was sadly time to say farewell to this really lovely family as they had to return to their home in Madrid and their normal everyday lives.  However, they had had a really enjoyable time with us and loved the whole experience from the rural setting to the pet-friendly environment, so there is a good chance we will see them with us again in the future.  We would certainly love for them to return, and of course to see Rafa and Manuel's English skills improve still more!
If you think you might be interested in a Self Catering Holidays in Spain, consider our self-catering apartment, which has plenty of space for a family of four, please check our availability calendar and e-mail us for further details and information.