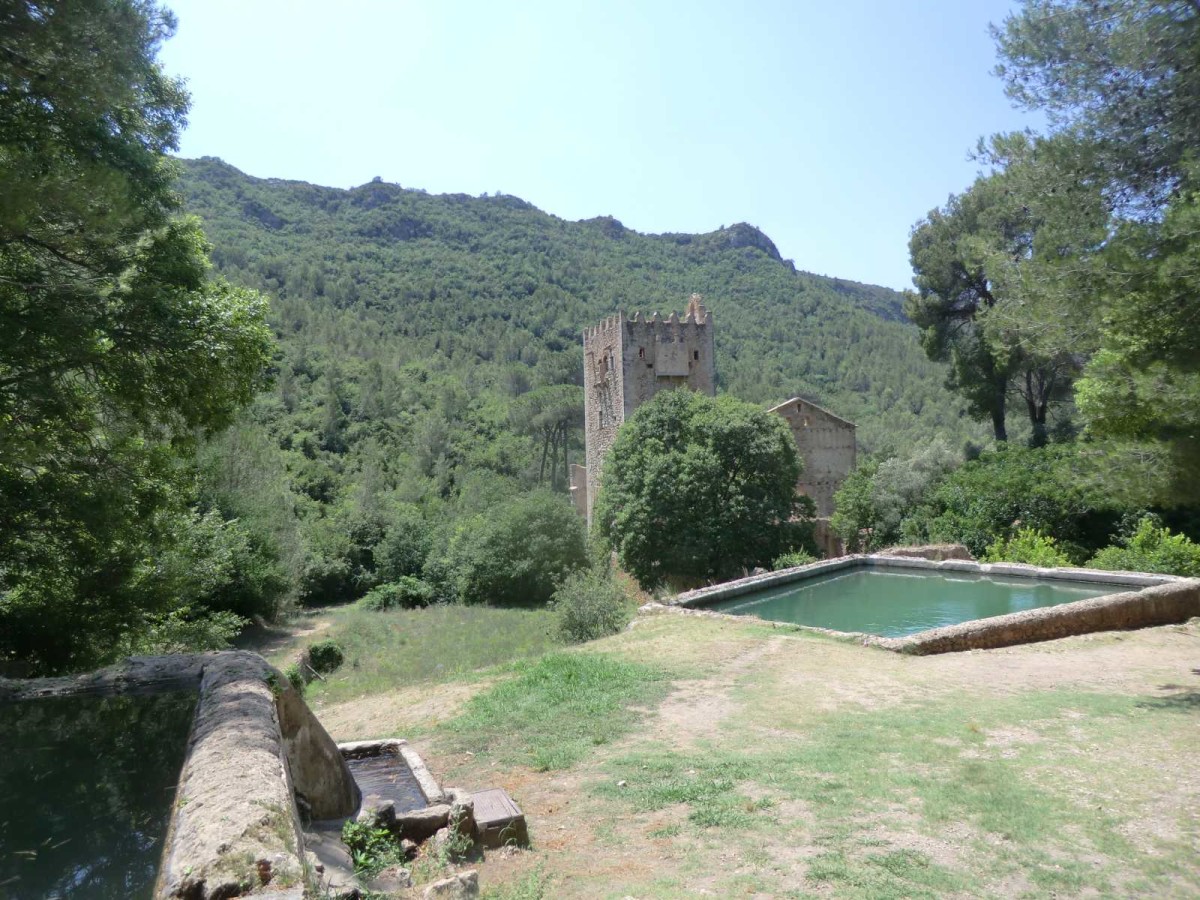 The Completion of the GR-236 Monastery Route
On Saturday, we decided to take out our mountain bikes and complete the traditional "Monastery Route" – a pilgrims' route linking five monasteries in the area. We had already covered the first four, but had not reached the final one which is located in the Valley of la Murta near the town of Alzira and is known as the Monastery of Santa Maria de la Murta.
We started from another of the monasteries along the route – at Simat de la Valldigna – as it is a great route to follow on mountain bikes, with a mixture of tracks, trails and conventional roads. We were accompanied on our day out by a friend of ours, Carolina, who had expressed an interest in joining us for a biking expedition, and so we all drove to Simat and set off from there at about 11.00am.
The first section of the route was a beautiful stage through valleys of orange groves with a beautiful backdrop of dramatic mountains and took us to our first main stopping off point, which was in fact the next monastery site along the route. This is at Aigües Vives, and is a former convent that is now in use as a hotel. We had already visited here back in May on our last attempt to reach the monastery in the Murta valley – an attempt which was unsuccessful due to misleading signposting further along the way! This was the first time here for Carolina, however, who was very impressed with the imposing building, and it was also a convenient place to stop for a breather and a welcome cool-off in the shade of some trees from temperatures which were in the mid-thirties. Then it was onward to Alzira, but this time we followed our instincts rather than the faulty signpost, and arrived there without any unintentional diversion – and in time for a more than welcome refreshment in a café! The tracks and trails are in fairness generally very well indicated, but it only takes one mischievously re-positioned post to send you in the wrong direction!
After catching our breath and cooling down in the café, it was time to press on to our final destination of the Monastery of Santa Maria. It is located in a breathtakingly beautiful setting in a lush and fertile valley, but close to dramatic mountains and crags that rise up almost vertically all around. The area immediately surrounding the monastery is a designated area of natural beauty and as such we had to leave our bikes at the entrance and walk the remaining kilometre to reach the monastery itself.

The effort was more than worth it, however, and we were rewarded with a tranquil and secluded spot in the grounds, with running water and lots of shade in which to have our picnic lunch. After a truly restorative lunch in the deep shade of the trees there, it was time to return to Simat, largely following the same route back. Because of time restrictions, we spent more time on conventional roads as far as Aigües Vives but then reverted to the tracks for the remainder of the route back to Simat and the car. We reached there at about 5.30pm, and all agreed that it had been a truly great and thoroughly enjoyable day out. A great mixture of tracks, trails, roads and gradients, and all in beautiful surroundings leading to a place of exceptional peace and beauty – what more could anyone ask of a mountain biking trip in the La Safor mountains?
Totals for the Day:-
Trip :- 49.8km
Max Speed :- 38.3kmph
Ride time :- 3:10:00
Odo :- 1326km