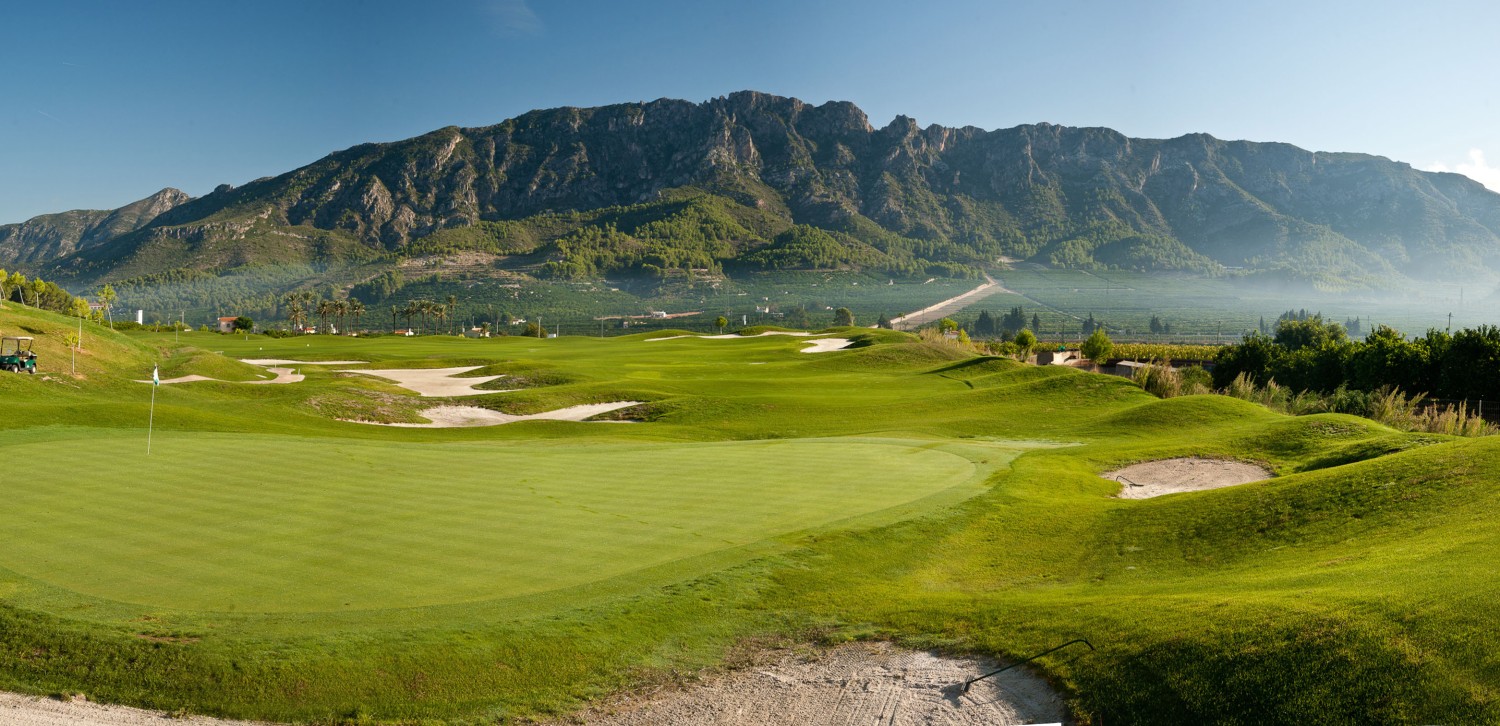 Golf Holidays in Spain – twice over!
We were delighted to welcome Frank and his family from Belgium, who had booked themselves to stay with us for two nights. They had spent some time in Valencia and wanted to sample some of the countryside of the northern Costa Blanca as a contrast to the bustle of the city. They were then going to be travelling a little further south for a couple more nights, before returning to Belgium.
They arrived on Tuesday and had reserved a double room for themselves and our triple room for their family, who were in their early twenties. They settled in to their rooms and spent the rest of the day in the gardens and the pool enjoying the beautiful summer weather we are now having. They expressed an interest in golf and were delighted to hear that the lovely La Galiana Golf course is within easy reach. They are all keen golfers, but were not aware of the existence of this new course as it did not appear in the golfing guidebook they had been referring to. It was therefore probably with a certain degree of trepidation that they set off the next day (Wednesday) to see if it really did live up to our description. They stayed there all day, making use of the restaurant facilities on offer there also, and returned full of enthusiasm for this hidden treasure in the Valldigna valley surrounded by its stunning mountain scenery.

After a leisurely breakfast on the Thursday morning, they left for the next stop on their trip, some 40 minutes south from here, but right on the coast of the Costa Blanca. However, they had only been gone for a couple of hours or so when we received a phone call from them to ask if they could return for the next two nights – until their return flight to Belgium – as they had so enjoyed their short stay with us, and their next accommodation had turned out to be something of a disappointment. Fortunately we were able to say "yes", as we were not completely full so were able to let them return to their rooms once more. They arrived back in the late afternoon (having spent some time at the beaches further south from here) in time for more swimming in the pool, and seemed genuinely glad to have returned to us! On Friday, their son and his girlfriend wanted to take the train to Valencia for some more sightseeing there, but Frank, his wife and their daughter wanted to return to the golf course for another game in the lovely surroundings. This was obviously no problem at all, as the station at Xeraco is conveniently on the way towards the Valldigna valley and allowed his son and girlfriend to catch the train there to the city, whilst the rest of the family then carried on to the golf course. They all returned late in the day, all having had a great day out in their different ways. The golf course was still a delight, so their unexpected return to us was a blessing in disguise for everyone!
The next morning, it really was time for them to leave, but this time they were having to catch a flight home, rather than carrying on to the next stop on their holiday. It had been great to have them stay with us, and certainly when we said "good-bye" to them the first time and they said they would like to return, we had no idea it would be so soon! Hopefully, however, it will not be the last time we shall be able to welcome them to the La Safor region of the northern Costa Blanca.

This slideshow requires JavaScript.