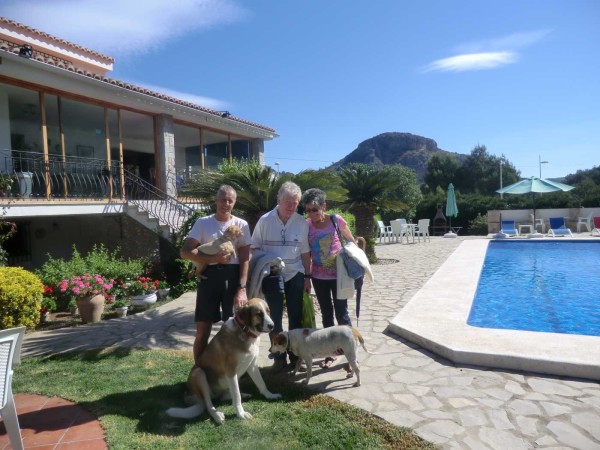 We recently received a booking from a lady who helps at the local dog rescue centre. She wanted to book one night's pet friendly accommodation for a German couple, Reinhard and his wife, who live here in Spain near to the French border. They were coming to Gandia because they wanted to adopt a Catalan Sheepdog which they had found out was in the centre here, having had one in the past.
They arrived in time for our evening meal service, and were more than pleased to be introduced to our own dogs and cats – and intrigued to see how well they all get on together. The plan was that the dog they were proposing to adopt would be brought here to Villa Florencia the following morning and they would then set off in their car for the five hour journey back to their home in the north. They thoroughly enjoyed their meal with us, and spent the evening talking about their plans to take their new pet home, whilst at the same time making a fuss of our own dogs.
Lola – our Spanish Mastiff – particularly endeared herself to them with her tranquil and placid nature and "gentle giant" demeanour. Reinhard was especially charmed by Lola and by the end of the evening was making jokes about packing her in their car along with their adoptee and heading home at high speed! He then thought to phone their contact at the animal shelter to discuss final arrangements for the next day and asked if they had another mastiff in their care. On hearing that they did indeed have such a dog – a female about 3 years old – there was a sudden change of plan. Instead of their new dog being brought here, they would go to the centre with a view to adopting not only their original dog, but also to deciding if the mastiff would suit them as well.
Although we did not go to the shelter with them, we heard from our mutual contact that they had fallen in love with both dogs and happily set off homewards with the two dogs contentedly settled in the back of their vehicle! Our Lola can be justifiably proud of herself that she played a major part in achieving the re-homing of one of her own breed, and we feel sure that such dog lovers as Reinhard and his wife will be absolutely delighted with both their new dogs. They gave us firm assurances that they would come back to visit us for a few days holiday later in the season, so we are very much looking forward to hearing how the new arrivals have settled in to their home. A short stay with us turned out to have a very happy ending for all concerned!
If you are interested in adopting dog or would like to support the work done by S.P.A.M.A Safor please visit their site and see how you can help.
S.P.A.M.A is an established registered Spanish Charity The shelter in Gandia is situated north of the Costa Blanca, on the Costa de Azahar Currently the shelter is home for approx. 300 dogs and 120 cats. Unfortunately we are located outside of the tourist areas, therefore it is difficult for people to offer their help. Our shelter is absolutely overcrowded. A lot of our dogs are 5, 6, 7, or even 8 years in the kennels. Many of them know nothing more than the shelter, never having seen the real world. SPAMA has fought against the law to put down animals after a certain length of time; we believe they should all live. However, living at the shelter in a kennel is not the best of alternatives, they need loving homes. Please help us to find new homes for the animals. A donation, whether financial, food, bedding or personal help at the shelter is always very welcome.