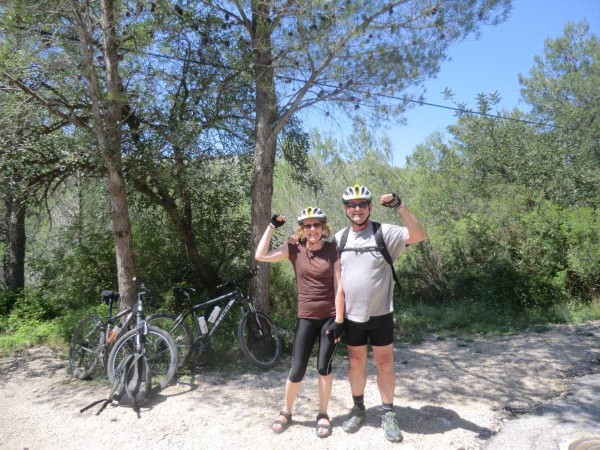 Mountain Bike Rental Spain – Self guided Mountain Biking
During their stay, Colin and Bev found time to go on 2 self guided mountain bike trips. One was through our valley to the Sant Jeroni monastery at the far side, whilst the second outing was from Villalonga along the line of the old Alcoi-Gandia railway as far as Lorcha, following the Serpis river for much of the route.
On day one we set off from the villa, having taken some time to get acquainted with the new mountain bikes, and make adjustment to the ride height, heading in the direction of the Saint Jeronie Monastery. Both Colin & Bev have done quite a bit of cycling in the past but neither had done any off road riding in a while, so this was a great opportunity for them to ease themselves back into the saddles gently. We completed the 20km route at a leisurely pace, on a mixture of paved and unsurfaced tracks, and even got to practise some off-road techniques in a little forested area close to the Monastery. A very sensible re-introduction to mountain biking given what was to follow on the next day,…
On day 2, we loaded the bikes into our van and set off for Villalonga and the start of the "Rio Serpis Via Verde", a 20 minute drive from the Villa Florencia. From here we followed a well marked route that follows a disused railway line through a series of tunnels to the village of Lorcha. We stopped for our lunch break at a bar in the village, and enjoyed a leisurely hour in the Spanish sunshine with drinks from the bar and our prepared packed lunches.
After lunch we stopped for a photo opportunity, in a beautiful scenic garden on the outskirts of the village, before embarking on the return leg of our journey. Re-hydrated and refuelled, we made short work of the pedal back to the starting point. We completed a distance of  30km for the day, and both Colin & Bev ended the day with a sense of great accomplishment. By 4pm we where back at the Villa Florencia in time for a nice cuppa and a swim!
They had a great time and thoroughly enjoyed themselves, giving themselves a break from the overriding concerns for Molly's safe return to England.