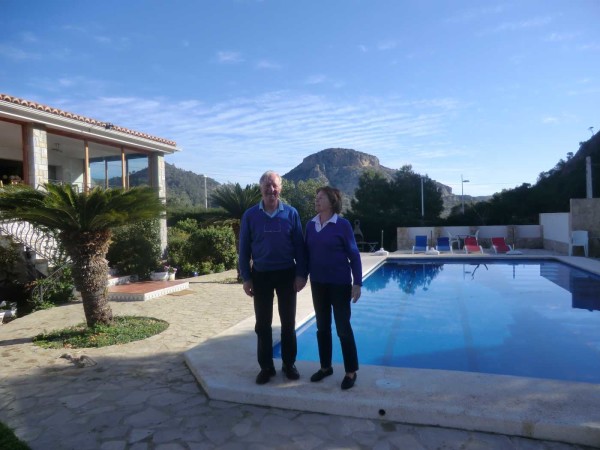 Golfing Holidays in Spain
Golfing in the La Safor region
We were pleased to welcome a Dutch couple – Willem and Vera – to our villa last week, and they had come not only with the intention of acquainting themselves with Gandia and the surrounding area, but also to play some rounds of golf. They had already spent three nights in Altea, where they had played on courses in the Benidorm area, but wanted to see what the northern Costa Blanca had to offer.
They were staying with us for three nights, and after dining with us after their arrival on the Saturday, they were keen to set off on the Sunday morning to the La Galiana course, just 30 minutes inland from us. Opened only in February 2011, it is set in beautiful countryside surrounded by mountains and orange groves and is something of a hidden gem amongst the better known courses on the Costa Blanca. Willem and Vera had heard of the course before they arrived with us but knew little about it, but when they returned from their game in the mid-afternoon, they were full of praise and said it was one of the most pleasing courses they had ever played. It far exceeded their expectations and they were very keen to play another game there before they were due to return to Holland on the Tuesday.
Monday was to be a day spent exploring Gandia, which was made even more interesting for them because it was the beginning of the fiesta of Fallas, where huge effigies are built in the streets before being burnt to the ground in huge fires on the night of March 19th. They spent most of the day walking around the town taking in the spectacle of one of the most important fiestas in the Valencia province, before returning to us in the late afternoon. That evening they returned to Gandia and dined at Telero restaurant – probably offering the best food and ambience of any restaurant in the town – and again they were very pleasantly surprised by the experience.

The following day was time for them to leave us – and indeed return to Holland in the evening – but their flight was not until quite late. They therefore took the opportunity to check out shortly after breakfast and then go straight back to the La Galiana golf course for another round. They had been so impressed with the course on their first visit that, rather than play at one of the other courses along the Costa Blanca, they decided to enjoy another day on the course there, en route to Alicante airport and their flight home.
It had been a pleasure having them stay with us, and hopefully they will want to return in the future to enjoy more of their favourite sport in weather that is so much more pleasant than back home!

When one thinks of Golfing Holidays in Spain, many are drawn to the south of the country but there are some beautiful courses in the La Safor region as well.
This slideshow requires JavaScript.
One such golf course is La Galiana, situated about 30 minutes' drive from Villa Florencia(B&B). It is set in the Vall de la Valldigna and the La Galiana golf course enjoys a spectacular setting, of outstanding beauty set in natural surroundings, in a valley surrounded by pine and orange groves, isolated from residential areas. More than 5000 local species of plants and trees have been used for its landscaping.
This course has everything that makes golf such an attractive game. The course itself is 18 holes Par 72 and 6975 meters from the back Tees, and with six Tees for each hole it provides a challenge for all levels of expertise. At the same time it is entertaining too, since the design of each hole has been studied for a continuous challenge for even the most accomplished players. The arrangement of greens and bunkers, and numerous water hazards that are distributed along the route, mean that the course will test the ability of all players, who will have to use their entire repertoire of shots.
If you are looking for comfortable accommodation in equally beautiful surroundings to the golf course, you need look no further that Villa Florencia (B&B), a beautifully maintained villa with daily room service for B&B guests. Guests may choose between either Bed and Breakfast accommodation or a self-catering apartment. An evening meal service can also be provided (whichever type of accommodation is selected). Another possibility for the larger group of travellers (up to 14) is the option to rent the entire villa on a self-catering basis. The villa is situated within easy reach of good road links to the La Galiana golf course as well as the others in the area, and is also only 8kms from some of the most beautiful beaches and coastline in the whole country.
Directions from Villa Florencia