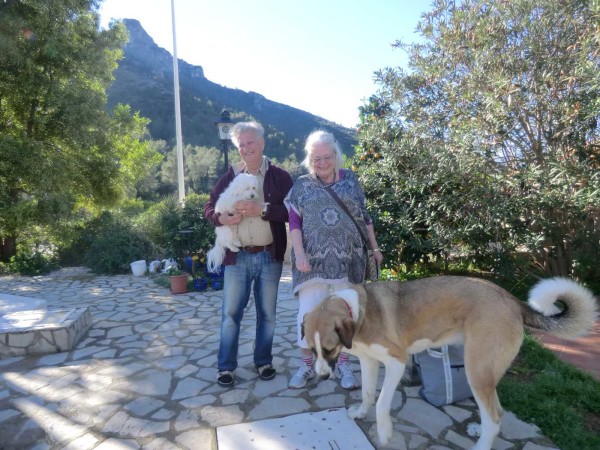 As part of our policy of promoting ourselves as Pet Friendly Accommodation, we frequently find that guests want to stay here with their pets, as it can often be quite hard to find suitable places to stay. In the last few days, we have had two such groups of guests, but staying with us for very different reasons.

The first couple to arrive were Thor and Margarete from Sweden with their thoroughly endearing dog Buster. They had flown from Stockholm with Buster and were on their way to their holiday home near Torrevieja, but had decided to take a few days to get there and spend some time exploring a different part of the Costa Blanca. They stayed with us for two days in one of our
Bed and Breakfast
rooms and took advantage of our evening meal service both nights – they considered it so much easier than either taking Buster with them or worrying if he was all right whilst they were out! Buster got along famously with our three dogs and spent a lot of time investigating the garden and playing around with them in general. During the days, Thor and Margarete would take some time to explore the area with Buster in the car and were very pleasantly surprised at how different the La Safor region of the Costa Blanca is from the part they are more familiar with to the south.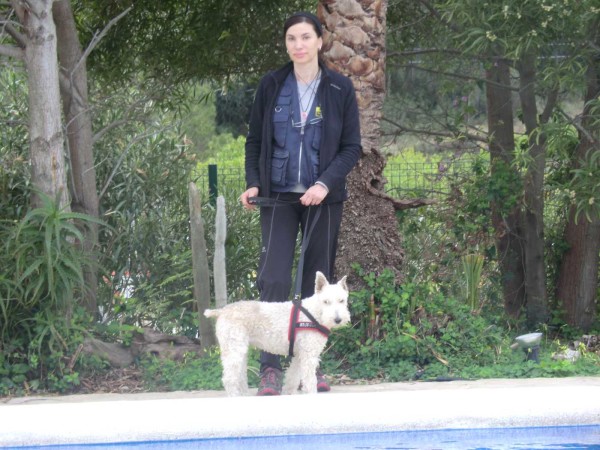 The other doggie guests to have stayed with us recently belonged to Mercedes – a Spanish lady who lives near Alicante. Mercedes arrived with her elderly (but very fit and active) father, and again stayed with us for two nights. The purpose of their visit was obviously very different, as Mercedes was entering one of her dogs – Biba – into the annual Dog Agility Show that is held in Gandia every year. Again, she found that our villa suited her perfectly. Not only was it pet-friendly as advertised – and again our dogs welcomed their canine visitors eagerly – but it also suited her father very well too. He had not often travelled away from where he lived and Mercedes had not wanted to stay in an impersonal hotel with him – even if she had been able to find one that accepted dogs. Her father lives in a rural environment amongst mountains and orange groves, so soon felt really at home with us in our villa, which is in very similar surroundings. Mercedes went to the Agility Show both mornings and returned at lunchtime to spend the rest of the day with her father, whilst he was more than happy to pass those mornings with their other dog here at the villa. Although they were also staying on a Bed and Breakfast basis, it suited them to be able to have access to the house kitchen in order to prepare a late night meal for them both, having gone out to a local café for a Spanish-timed lunch in the middle of the afternoon. Really, it was the ideal combination for them – Bed and Breakfast accommodation with a bit of self-catering thrown in!

It was great to have all these doggie guests stay with us, and we are already looking forward to our next pet visitors – although this time the new arrivals will be staying with their owner in our self-catering apartment for a couple of weeks. Whichever accommodation option suits their owners, Villa Florencia seems to be to everyone's taste – whether canine or human!