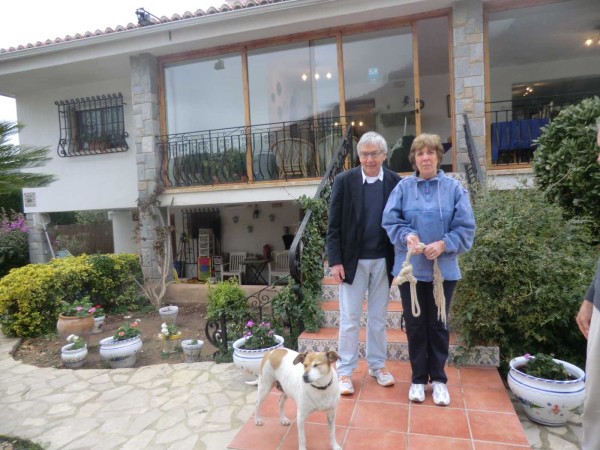 Bed and Breakfast in Spain
We were happy to welcome Curt and Sandra who came to stay with us for two nights last weekend. They live in Wiltshire – although Curt is Swedish by birth – and the purpose of their trip was to visit relatives who live in this area, as well as other family members further south near Torrevieja. Their plan was to stay with us for a couple of nights and then to move on to visit their other relatives.
Curt and Sandra arrived around 3.00pm on Saturday and had a welcome cup of tea in the garden before setting off to their uncle's house about 15 minutes away. They had also said that they wanted to take advantage of our evening meal service on their first night with us; they had been on the move since 3.30am the previous day and were glad to know that, after their afternoon visit to the family, they would be able to return to us and relax, without having to think about finding a restaurant in unfamiliar surroundings. It is for this reason that they prefer to use Bed and Breakfast accommodation whenever they can on their travels, rather than a larger hotel, as they feel they can benefit from a much higher level of personal service and flexibility. They thought they would probably be back with us in plenty of time for dinner at 8.00pm – a time when few Spanish restaurants are open for business in any case!
Over a leisurely meal they told us that they had been to this part of the country several times, but always wished they were able to spend longer exploring the region – whereas in fact their time was mainly taken up with visiting their various family members. This visit was to be no exception though, as the next day – Sunday – they returned to visit their uncle again and to have lunch and spend the afternoon with his family. Because of this, they felt that our full evening meal service would be too much so instead they opted for a lighter option of soup and sandwiches which suited their needs perfectly. During the evening they asked us if there was any plan we could suggest for them to follow the next day, when they would be driving down to their other relatives in Torrevieja – they wanted to see some of the countryside on the way, rather than monotonous motorway driving!
After breakfast on Monday, therefore, they set off over the La Safor mountains to pass through the villages of La Drova, Barx and Simat de la Valldigna before heading inland to the historic town of Xativa where they planned to have lunch and take a look round the quaint narrow streets. Then they were going to follow the inland A7 route south towards Alicante and then onwards to Torevieja for the next family visit. It was a real pleasure to have Curt and Sandra visit us and they said they had enjoyed their all too brief stay with us so much that it was their firm intention to return and take more time to look around the area at their leisure. We very much look forward to seeing them again at our Bed and Breakfast in Spain – maybe in the warmer weather!