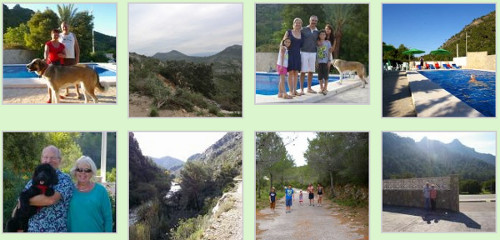 The season that lies ahead in 2013 will be our seventh full year of operation, and we are looking forward to a year of welcoming back previous guests as well as meeting new ones for the first time.   In the cooler months of the year the area is a haven for those looking for an outdoor holiday (2013 Sunshine Holidays Spain) rather than one based around sunshine and beaches.  Mountain biking, hiking, bird watching , hill walking and rock-climbing are just some of the other activities that can be enjoyed in the immediate area around the villa, or at most within a 20 minute drive.
Diversification has to be a positive thing, especially in the uncertain economic times that seem to face everyone at present– in whatever European country you find yourself.  In past seasons, we have directed our marketing efforts at a wide range of nationalities as well as at the local Spanish holidaymaker and house renter.  Indeed, our flexibility and the range of accommodation options that we can offer have proved to be a popular concept with our guests.  Many – particularly in the peak holiday season – still prefer to go for the traditional Bed and Breakfast type of visit and spend much of their time during the day exploring the surrounding areas and attractions.  However, even these guests (more often than not) also choose to take advantage of our evening meal service, so in fact have all the advantages of a friendly country hotel but without the constraints that are traditionally associated with that type of accommodation.
Other guests prefer to have self-catering accommodation, and this is where our apartment comes into its own.  Although it is an integral part of the main house, it has its own entrance, two en-suite bedrooms and a fully equipped kitchen and living room.  Guests staying here, however, also have full use of all the other facilities of the villa including the option of evening meals.  Sometimes, however, we are more than happy to offer "Casa Rural" type accommodation to those who are looking for that particular option.  This involves renting a room (as you would on a Bed and Breakfast basis), but without the breakfast – or indeed any other of the catering that we generally offer.  For these guests – and it is generally a Spanish concept – we are happy to allow them to 'self-cater' in the main kitchen, which obviously they might have to share with any other guests staying here at the same time.  However, the facilities and the space have always meant that this has never been a problem and has proved a cost-effective and convenient choice for many guests.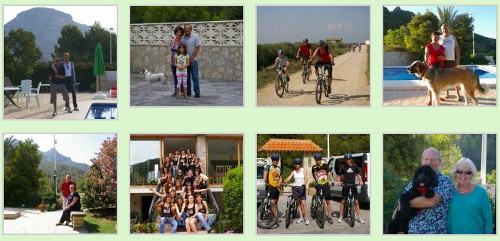 Another possibility is that of Villa Rental (renting the entire house (with or without the apartment depending on numbers) ), which means that groups of up to 16 people can spend time here together, but with sufficient space that it never seems crowded or cramped.  This option has been chosen in the past for either weekend lets – usually for Spanish hen parties – or else for longer stays when an extended family wanted to holiday together.  In this case, guests have full access to the whole property, and basically rent the villa for their vacation with exclusive use of the kitchen, living areas, gardens, etc.  We are still on the property, but in our separate apartment so do not in any way intrude on our guests' privacy, but are nevertheless on call if any help or advice is requested.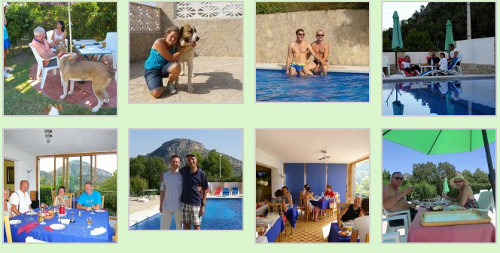 So we anticipate that we will welcome our guests in 2013 with as wide a range of options and choices as possible, and making ourselves known to as many different types of holidaymaker as we can.  Traditional overnight Bed and Breakfast guests, apartment renters, weekend party groups, special interest holidays, or Spanish "Casa Rural" guests – we look forward to meeting them all during the coming year.  We have  enlarged and improving our sun terraces around the pool so there is even more space for our guests to relax and make the most of the gardens and the beautiful weather that we hope to see in the year ahead.
We hope that many new visitors will come for the first time, but of course it is very gratifying when previous guests come back to us again. If the weather is as good for the rest of 2013 as it has been so far, it should be a year to remember!