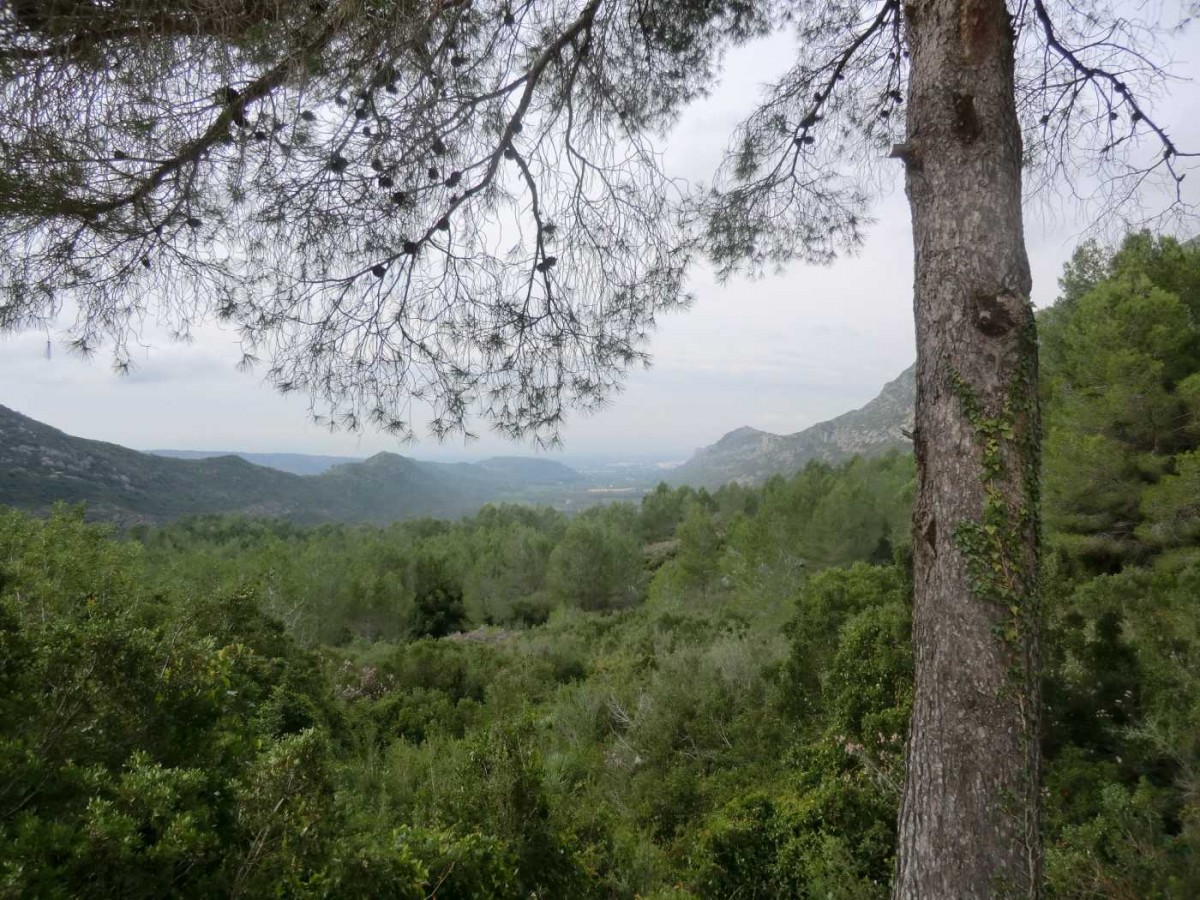 Some time ago we received a reservation from David and Miranda for a three night stay here in November and so we were pleased to welcome them when they arrived this week, having stayed their first night in Valencia. They had originally booked their trip to us with the intention of considering the area for a possible house purchase, although now their emphasis had changed somewhat.
Although still thinking about maybe purchasing a property in the future, they were now more interested in having a walking holiday in Spain. They had already realised what a beautiful part of the country this is and how many opportunities there are for walks and hiking along well marked routes in the area, so they decided to combine their interest in the outdoors with a little time spent viewing properties as well.
After arriving early on Friday afternoon, they settled in to their room and soon set off on a short walk through the orange groves here to the rear of Villa Florencia. They walked up to the tree line of the hills behind us and came back tremendously impressed with the views stretching right across the valley. This part of the Costa Blanca has a huge range of walks for all levels of ability and in fact is a favourite destination for holidaymakers looking for something a little different in the low season, but nevertheless it still comes as a pleasant surprise to the first time visitor. David and Miranda then dined at a local restaurant that evening before heading off to bed for a well-earned rest after their long day.
Saturday was a lovely day, and David and Miranda requested a packed lunch that they could take with them on their planned walk in the mountains, beginning at the hiking information centre near La Drova. They drove to their starting point and spent the rest of the day following the trails that are marked out there and had a thoroughly enjoyable day in the mountains. They returned to us in the late afternoon and said they had had a great time in the natural surroundings that are within such easy reach of us here – despite the fact that we are only such a short distance from the town of Gandia itself. They chose to dine with us that evening before having a reasonably early night after such a full and active day.
As well as going for another walk with a packed lunch on Sunday, they also wanted to pay a brief visit to Playa de Gandia to familiarise themselves with the beach area, as they were in fact going to be staying there from Monday night onwards, before returning to England three days later. This all was part of their original idea of doing some property hunting in the area, as they wanted to get a feel for what the beach and coastal areas were like at close range, having spent time in the mountains with us here in Marchuquera. They loved the fact that the beach and the mountains were so very close together and that the whole of the area down at the Playa was so well looked after and benefitted from such an array of facilities. Of course, at this time of year there is plenty of space and no sign of the August crowds and they were most impressed with the general feel of this part of the Costa Blanca coast.
Monday came, and along with it was their time to leave us. They had an appointment to see an estate agent for some house viewings that day, and were glad that they had been able to combine an activity holiday with their original intention of looking at some property with a view to a possible future here in Spain. They had a most enjoyable time with us, and we look forward to seeing them again, as they said they would almost certainly be returning to this part of the country to continue their search for a home – and most definitely to do some more hiking in the beautiful mountains of the La Safor area.