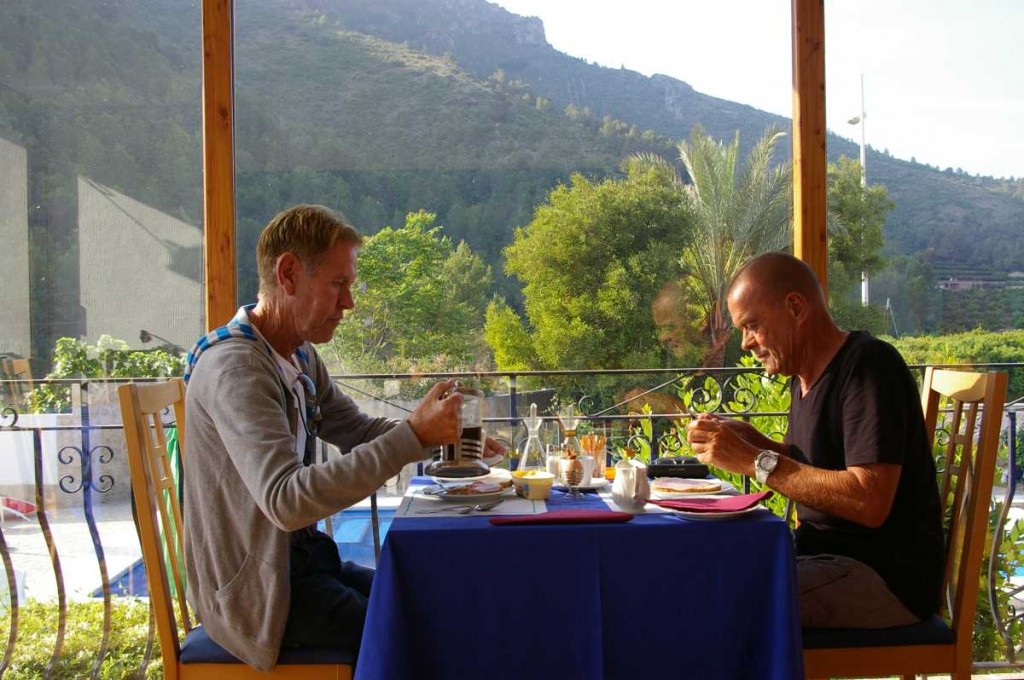 On Sunday we were pleased to have Ton and Frank from Holland stay with us for the night on their way south to Almeria. They had set off on their journey by car from the Netherlands on the Saturday, staying at Narbonne in France along the way. In fact they phoned us from France to enquire if we had a vacancy for Sunday night, as they liked the idea of breaking their journey in our part of the northern Costa Blanca. This was to be a tour around the mainland of Spain for them, lasting about four weeks, in order to familiarise themselves with the country. They already have a property on the Canary Islands, although are thinking of relocating to the mainland, as well as retaining their other home in Holland also.
They arrived during the afternoon, having made good time from France, and were pleased to be able to spend some time around the pool in the beautiful weather that we are enjoying now, before taking advantage of our evening meal service too. They decided that it would make things very much easier for them if they could simply relax after their long drive, without having to think about finding a suitable restaurant in unfamiliar surroundings.
The next morning was not a particularly early start for them, as they did not have so far to drive in order to get to Almeria compared to the trip from France to reach us. They were very pleased to find that we were so well placed for the A7 motorway and that they could call in here so conveniently along their route. Their plan is to carry on through Spain's southern cities – Granada, Seville, Cadiz – and then head north, probably taking in a visit to Madrid along the way home. Otherwise they would have called in here again on their return trip, if they had been heading back up along the Costa Blanca. They said they had had such an enjoyable stay with us that their only regret was that it was such a short one and that they were not able to repeat it on the way home!
It was great to meet Ton and Frank, and again it showed us how well located our bed and breakfast near Gandía is for such stop-overs on a longer trip through Spain. We can only hope that Ton and Frank will visit us again sometime in the future, and maybe plan to spend a few days more and acquaint themselves with everything that this lovely part of Spain has to offer.