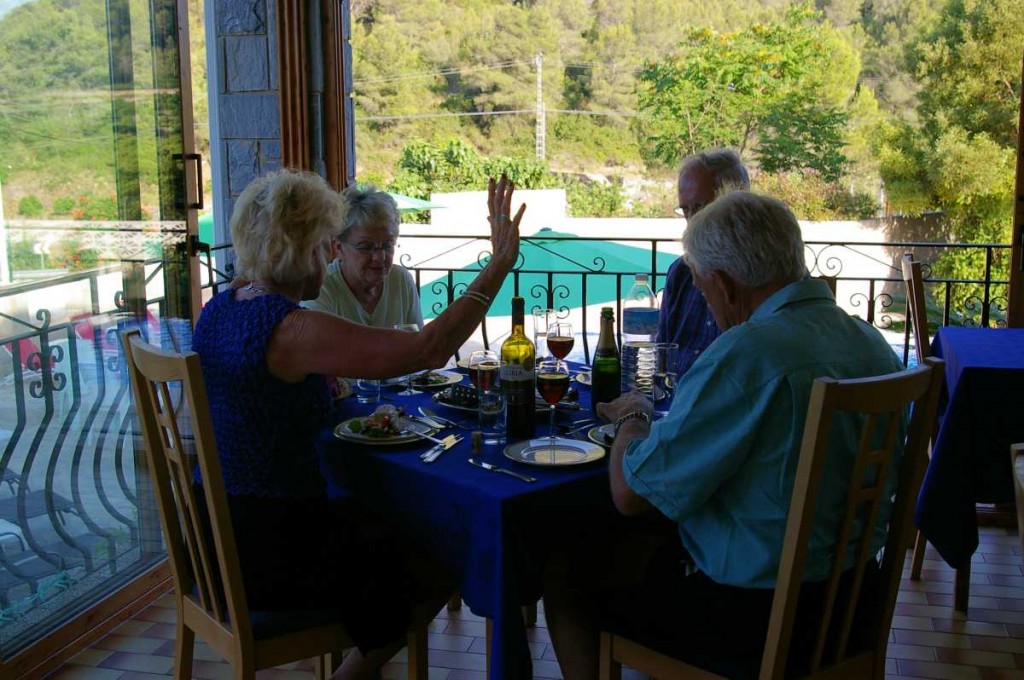 It was with great pleasure that we welcomed two couples from the United States last week, especially so because they came to us on the recommendation of some friends of theirs who stayed with us last year in our bed and breakfast.
Bob and Mary Lou were from Colorado Springs (where their friends who stayed with us last year were from also), but Hank and Maxine come from Missouri. They were on a driving holiday through France and Spain and stopped overnight with us on their way to Malaga.
They had visited Barcelona before coming on to us and arrived in the late afternoon, ready for some relaxation in the gardens and around the pool. They soon settled in to their rooms and then enjoyed some drinks and tapas in the bar before joining us for dinner that evening. They had not visited Spain before, and had decided to drive down the Mediterranean coast, stopping off at Barcelona, then on to the Costa Blanca before heading down towards Andalucia. Their whole trip was to last just over three weeks – including their visit to France – and they were loving their time in Europe. They were following some of the route that their friends took last year, but with variations along the way.
We were very glad that they decided to stay with us, however, and we were even able to say hello to our guests from last year on the phone when Bob contacted them to thank them for the recommendation. We had a most enjoyable time with them over dinner and they were interested to hear of what had brought us to the area, and agreed that this was indeed a very different part of Spain – they were especially impressed with the greenery all around and with the lushness of the citrus orchards. It was a great pity that their schedule only allowed them to say with us overnight, as they expressed great interest in the biking and hiking opportunities that abound in this part of the Costa Blanca and felt they would have enjoyed spending a few days getting to know the area better.
However, the next morning it was time for them to leave and they agreed they had had a great time in our company and promised to return to us if ever they were in the country again. Meanwhile, we obviously hope they will indeed come back – or if not, then recommend us to yet more of their circle of friends from the USA!
Click on Thumbnails to enlarge