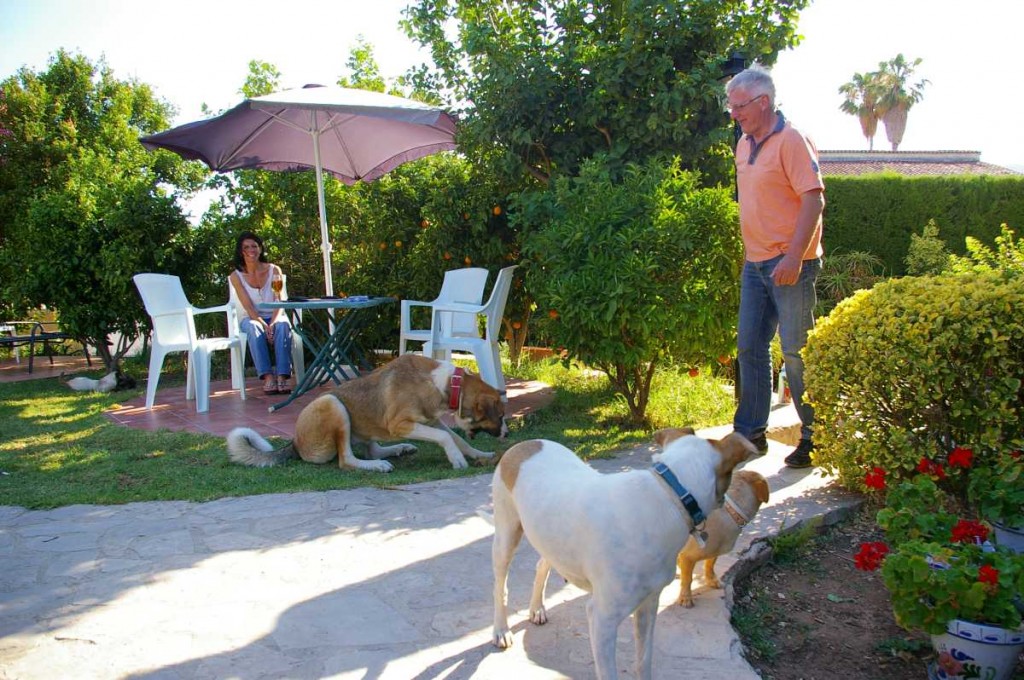 Just over a month ago we were pleased to have Dagmar and Andreas visit us for a couple of days from Germany. They were spending time helping at the local animal rescue centre before taking four dogs back to Germany by plane for adoption. Dagmar chose a dog that she also wanted to adopt, but was not able to take it with her at the time for legal reasons and it was going to be transported to Germany at the beginning of June.
We were therefore very happy when they returned to us last week by car with the intention of taking Dagmar's own dog back with them, as well as three others that had also been found homes in Germany. They arrived late in the afternoon, having left Germany the previous evening and driven non-stop the whole way! Having visited us before, they settled in with us like they felt at home immediately and joined us for dinner that night.
The next morning they were keen to go to the rescue shelter and see the dogs they were taking home, so the plan was to straight to the centre, spend some time with the dogs and depart for Germany that same day! As far as we know, the plan went to schedule, and we were delighted to have seen previous guest return to us yet again.
But that was not all … a few days later some more guests returned to us – also with a connection to the animal rescue centre. Wolfgang and a colleague had visited us also about a month ago, driving from Germany in an air-conditioned truck, which they were using to take about 40 dogs back to Germany for rehoming. Mission accomplished, they were back again – this time to transport about 35 dogs! Many of the dogs have already been adopted on-line by families in Germany, although some will go to a rescue centre there first, with a far better chance of finding a home than they would have in Spainl The dogs are in an air-conditioned `freight area of the truck, but each animal has its own secure cage in which to be kept safe and secure.
It was good to see not one but two sets of returning guests, and all the more gratifying that such a good cause was involved. Who knows … they may be back again in the future, in which time we will of course be glad to accommodate them once more.