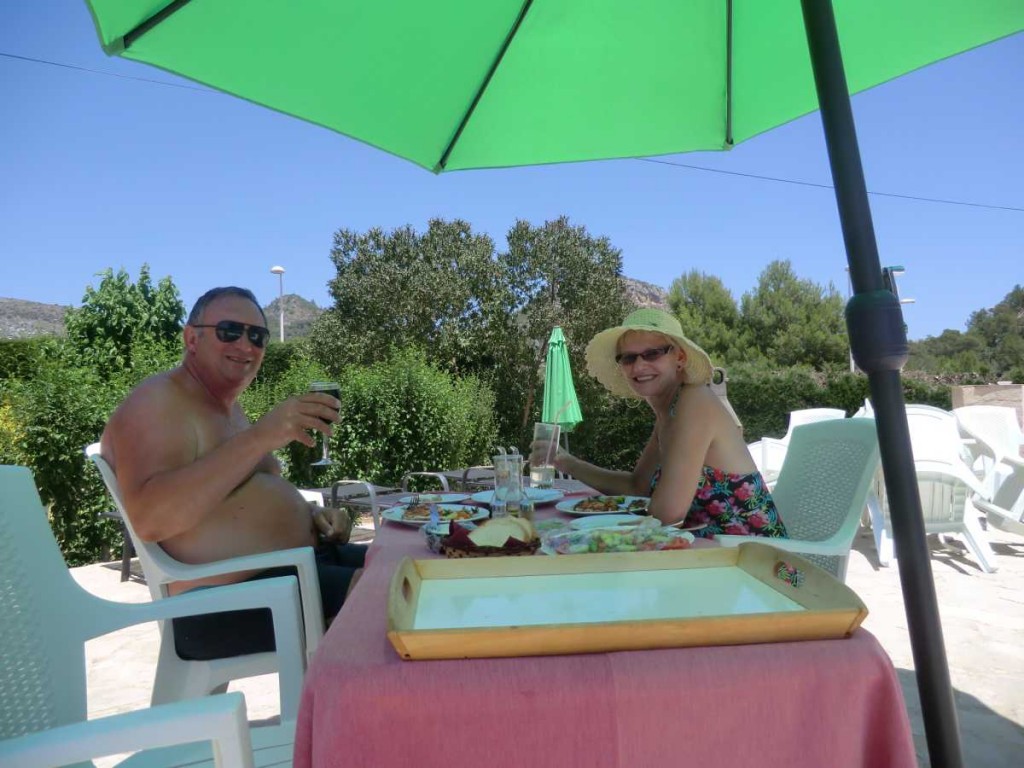 This last weekend we were pleased to welcome Jonathan and Anne, who live in Orba on the Costa Blanca less than an hour away from us (and have done so for the last 15 years). They run their own business and felt in need of a short break, so – having heard of Gandia – they decided to visit us for a couple of days and explore the area. They took advantage of our special offer of a Bed and Breakfast weekend of a two night, three day mini break.
They arrived on the Friday around midday, settled in to their room, and then set off to Playa de Gandia in search of lunch and some relaxation on the beach. They had lunch at the Yacht Club there and then strolled along the promenade before relaxing on the beach for the rest of the afternoon. They returned to us in time for some final sunbathing around the pool, and then joined us for dinner.
On the Saturday they wanted to visit another of the stunning award-winning beaches that are to be found all along this stretch of the northern Costa Blanca and so went to Miramar – a very different and less developed experience compared to Gandia, in a very lovely location. They spent the entire day there, had lunch at a bar on the beach, and came back again for the last two or three hours of sunshine in the garden.
Saturday was also the festival of San Juan, where it is customary to go to the beach at night, light a bonfire for a barbecue, and then jump in the sea and over twelve waves at midnight for good luck in the coming year. They had not experienced this before, so se out to Gandia beach during the evening to take in the experience – including the obligatory fireworks at midnight! They returned in the small hours of the morning, saying they had a great time and were glad to have seen the whole fiesta for themselves.
Sunday morning was time for a leisurely breakfast, and then the rest of the day was spent in the gardens and pool. There was no need for them to check out at any particular time, so they were more than happy to spend the day here, having an al fresco lunch at the poolside and only leaving for home at about 5.00pm. They had a really good and relaxing time, and as Jonathan said it was a revelation to realise that in fact it is not always necessary to go far away from home in order to have a really relaxing break and to feel that you have properly unwound. They certainly felt the benefit of their visit to us at our Casa Rural – Bed and Breakfast, and it was a pleasure to have them stay. Since they are only such a short journey away, we hope to welcome them back in the near future.