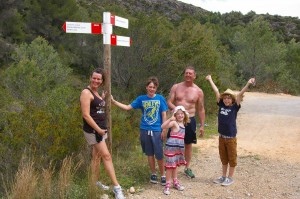 Tony, Trudy and their children Harvey, Monty and Queenie visited us for just over a week, and chose to stay in our self-catering apartment. Tony and Trudy had visited the area last year with a possible view to purchasing a holiday property and wanted to return this time with their children to give them the opportunity to see the region also. The self-catering apartment was the ideal option for them, and allowed them much more flexibility – they enjoyed the sense of independence and privacy that the apartment allows, but at the same time they joined us for most of their evening meals – and even for some breakfasts too! They wanted the advantages of the apartment, but quite understandably Trudy wanted to feel that she had had a break from cooking for the family too!
They were all keen walkers and loved the fact that there was so much in the way of hill walking and exploring to do in the immediate vicinity of the villa here, and in such beautiful and natural surroundings. One day they took a walk along the orchard roads behind the house, going up as far as the tree line behind, and then returning via a dry riverbed along the base of Penya Roja (Gandía Crag). Whilst there, they took the opportunity to scramble up to the base of the climbing rock faces to see the caves there and enjoy the wonderful views across the Marchuquera valley and even to spot Villa Florencia nestling in the distance!
Another day, we gave them a lift up to the hiking base station on the outskirts of La Drova up in the mountains behind us, and they enjoyed the next couple of hours hiking back down the mountains along the marked-out pathways back towards home. The weather was actually perfect for that kind of hike – pleasant, but not too hot and sunny. They absolutely loved the views and the feeling of being so close to nature again, and by the time they returned to us at the villa, the sun was shining and it was just in time for lunch followed by a long warm afternoon by the pool!
They had a great time on their visit to us, and by the end of their time here they felt almost certain that they would want to come back for more of the same! Possibly next time they will resume their property search, as they have decided that this area has a huge appeal for them – lots of great walks in the countryside, close proximity to fabulous award-winning beaches, and just a beautiful area in which to spend some time to unwind from the stresses and strains of everyday life back home! We look forward to seeing them again soon.
Please click on Thunbnails to start slideshow