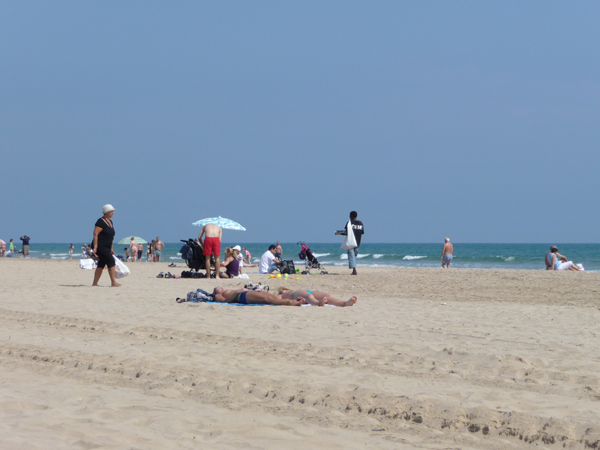 Easter Saturday saw the arrival of Joan and Mike, desperately needing a dose of Costa Blanca sunshine after a long British winter. Joan and Mike currently live near London, but originally hail from South Africa and have therefore been accustomed to a much milder and sunnier climate than they have been experiencing in England for the last decade! They were looking forward to relaxing in the gardens and swimming in the swimming pool – and of course catching up on some much needed sun!
They stayed with us for a week, and in that time they also made plenty of day trips to the surrounding resorts on the Costa Blanca, taking in the lovely scenery around Denia, Calpe, Altea and elsewhere along the coast, as well as enjoying drives through the mountains that form the dramatic backdrop to this part of Valencia province. Occasionally, they would also make the most of the good choice of high quality shopping in Gandia, visiting the traditional high street shops in the town centre, as well as the modern stores in the undercover shopping precincts.
They enjoyed the fact that, although they were on a well-earned break, they were also able to keep in touch with the outside world – so necessary in their line of work. Regular contact with the trading markets on British television via Sky, and looking at the Bloomberg and CNN channels, kept them abreast of current developments and they made frequent use of the free WiFi service available to our guests in order to update themselves on stocks and shares. An added bonus was the fact that – with the full television service here at Villa Florencia – they were also able to enjoy the splendour of the Royal Wedding along with the rest of the guests. A spectacle not to be missed!
Their week with us passed incredibly quickly, but when it came time for them to depart, they felt that they had had a really good holiday and a real chance to unwind and escape from the daily routine, whilst at the same time being able to keep in touch with current events as much (or as little) as they wished! They had a great time, and have little doubt that they will come back to visit us again in the future – and a very welcome return it will be!