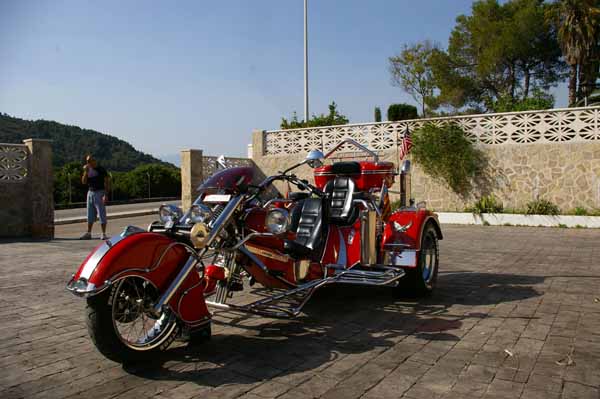 Is it a Motorbike …. Is it a Car??
Well, neither really – it's a trike!!
We received a phone call on Thursday asking if we had vacancies for the next 2 nights from a couple who live in Elche, and who were thinking of visiting our part of Spain for a couple of days to explore the area and make the most of the sudden improvement in the weather. Sue and Frank were particularly interested in the fact the we had secure off-street parking, as they said they would be coming up from Elche on their trike.
Friday afternoon saw the arrival of Sue and Frank Reidy – and their magnificent motor-trike, which was rather like a combination of a quad bike and a Harley-Davidson, but with three wheels! They had an excellent trip up from Elche, staying on the N332 and enjoying the ride in the beautiful weather.
Sue and Frank have lived in Spain for about 10 years now, and run a very busy and successful pool maintenance company, specialising in annual contracts and sorting out the many problems that people can have with their pools and pumping equipment. They trade under the name of Clearwater Pools, and most of their business is concentrated along the southern Costa Blanca – hence their desire to get to know our part of the northern Costa Blanca. After a drink in the garden and then dinner, they planned their excursion for the following day and decided on a combination of inland mountain scenery and coastal resorts.
Saturday was the warmest day of the year so far, with temperatures reaching 36˚c, and was just what they had in mind for their trip. They set off in the morning, riding up to La Drova and Barx in order to see the spectacular views from there right down to the coast. After that, they went to Simat, Cullera and then a whole loop inland getting to see many of the small picturesque villages that lie in that direction. Taking in Playa de Gandia as well, they finally returned to us in the late afternoon, having had a thoroughly enjoyable day and covering about 300kms!! They described it as a perfect day out for them, and they obviously appreciated this part of the Costa Blanca and its wonderful scenery. Sue and Frank joined us for dinner again on the Saturday night, and then all too soon it was time for them to check out on Sunday morning. However, they were in no rush to return home and thought they would take a scenic route back south, with the promise of returning to us in the future – possibly with some friends, and either visiting us on a B & B basis again, or possibly renting our self-catering apartment for a change. We look forward to their return, and to seeing their impressive "trike" parked in our parking area once more!