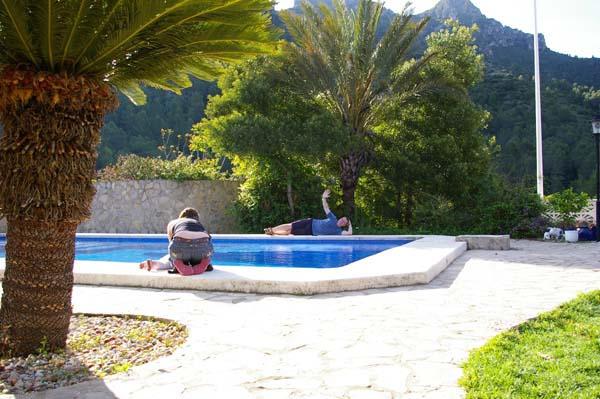 Family Holidays on the Costa Blanca
Stuart and Linda, along with their 10 month old daughter Katy, booked in to stay with us for 8 nights in our self-catering apartment over the Easter period. They wanted to have a combination holiday that took in city, beach and countryside so decided that making Villa Florencia their base would be the perfect solution, and they often made use of our evening meal service when they returned from a particularly long day out.
They made excursions every day to the surrounding area and beyond, and were so impressed with their first trip to Valencia City that they returned there later in their stay for a second visit. They made trips to several of the beaches in the area as well, and also took in much of the inland mountain scenery of the Costa Blanca. They were glad to find that wherever they went, they would find suitable facilities for young Katy and always received a warm welcome in cafés and restaurants. In between all this, they also found time to relax in our gardens and around the pool on the days when the weather was bright and sunny.
Valencia City proved a very pleasant surprise for them. Being well travelled, they have visited many places in the world but found a unique atmosphere and vibrant mood in the city, and felt that the City of Arts and Sciences was most definitely a sight to remember for its unique style of distinctive architecture. On their second trip to the city, they took the Touristic Bus tour, and bought a combination ticket which not only gave them access to both bus tour routes, but also admission to the Bio Park – a fantastic new open-plan animal park which specialises in promoting the ecological aspects of animals on the planet and showing them to the public in as open and natural environment as possible.
Stuart and Linda were absolutely delighted with their holiday, and felt there really was something for everyone in this part of the Costa Blanca. Beautiful beaches, spectacular scenery, an interesting city – the area has it all, and they were more than pleased to enjoy everything that the Costa Blanca – and the La Safor region in particular – had in store for them. They hope to return to us later on the year – possibly in July – and maybe accompanied by Linda's father, when they hope to show him how great this part of Spain really is.
Rob and his partner Matthew from Holland contacted us to ask if we had a room free at short notice, as they were currently in Extremadura and wanted to come to our part of Spain – partly to leave the rain behind (hopefully), and also they were in search of a good hiking and hill walking spot. We were more than happy to welcome them, and they duly arrived the next day. They initially booked in for two nights, but soon felt so much at home and realised the possibilities for walking in the area were so good that they extended their visit to a total of four nights.
The weather was mixed during their stay, but they found a good balance – when it was bright and sunny they stayed around the pool and in the gardens, and when it was cloudy they went on one of the signposted walking routes in the surrounding orange groves or mountains. One day they even took time out to explore Valencia City, which they found a great place for a change of scene. Most of the time, however, they spent out and about in the local area and made use of the information available to hikers at the "senderismo" centre near to La Drova. From there they could go on various marked out routes through the mountains and they were very impressed with the scenery and natural beauty of the La Safor region. It had never been on their original agenda to come to this part of the country at all, and it was only because they had encountered very wet weather in Extremadura that they ventured to the Costa Blanca coast. However, in the end they felt that the bad weather elsewhere had done them a favour as they were glad to have discovered Gandia and the hillwalking opportunities of the La Safor region.
On the morning of their fifth day, they had to leave to catch their flight home from Madrid, so were glad that the motorway network is within easy reach of Villa Florencia. They were able to leave in good time to make their late afternoon flight back to Holland, and who knows – they seemed so impressed with their surprise discovery of this area that they may return to explore the rest!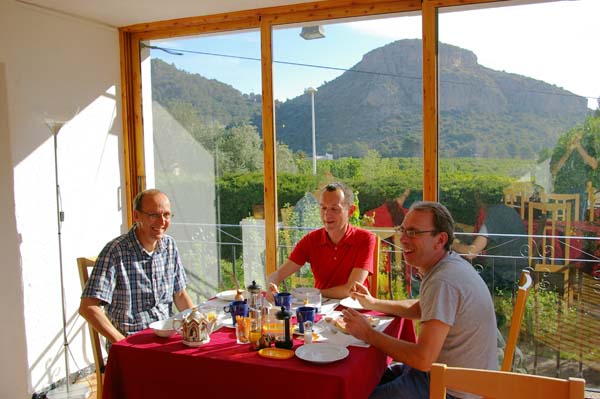 Friends Reunited on Holiday!
No – nothing to do with the famous social network website, but a chance for three friends to have some time together at villa Florencia! We received an e-mail from Philip asking if we had availability for five nights over the Easter period for himself and his partner Dieter, and they would be joined on their second day by Richard, a friend of Philip's since they were at school together. Interestingly, Philip (who is from Northern Ireland) and Dieter live together near Munich, whilst Richard (also originally from Northern Ireland) now lives and works in Barcelona.
Philip & Dieter had been spending a few days in Valencia City before coming down to Gandia, and Richard was following the next day by train. They intended to spend some time together catching up in the relaxing atmosphere of the mountains and orange groves, and of course doing a few day trips to acquaint themselves with our part of the country. Their plan worked out perfectly, and (despite the occasional shower) they soon sorted out daily excursions to local towns and villages, including the castle town of Xativa just a 40 minute drive inland from here. Also on their itinerary was a visit to the monastery at Simat as well as general scenic drives all around this part of the Costa Blanca. Although they had all explored various parts of the country in the past, this was the first time they had come to the La Safor region, and they were more than pleasantly surprised with what they found on our doorstep.
Part of their time was spent relaxing around the pool and in the gardens of course, but they also got to know Gandia town and were impressed with the vibrancy and the prosperous atmosphere of the place. Playa de Gandia also was a source of delight, with its stunningly beautiful, wide beach which is so well maintained – more than justifying its Blue Flag award. Backed by a wide choice of bars, cafés and restaurants they agreed it was one of the very best beaches they had ever encountered.
After their 5 night stay it was sadly time to depart, but they still had some time that they were spending together in Barcelona. They left in the early afternoon in time to drop off their hire car at Valencia airport, from where they were taking the metro into the city centre, and then the Renfe train from Valencia to Barcelona. A couple more days in Barcelona – where Richard lives permanently – and then it was finally time for Philip and Dieter to fly back to Munich. They had a great time staying with us, however, and Richard is already formulating plans for another visit to us in the near future – an easy train ride away!