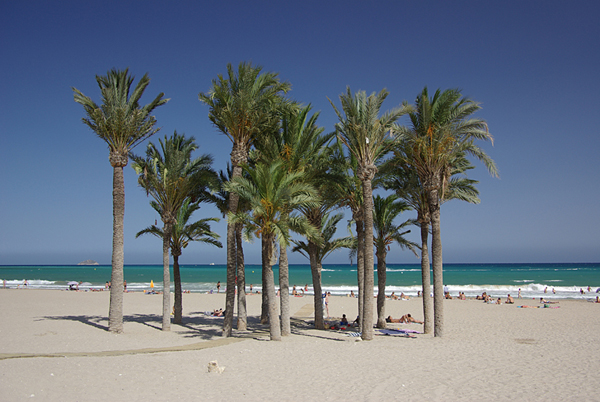 Spain's Costa Blanca is well served by both Valencia and Alicante airports, so depending on your departure point in the UK you will find a huge choice of economical flights at your disposal. Once here, there is no shortage of resorts to provide accommodation and entertainment at exceptionally good prices at this time of the year. Depending on your preferences, you could choose a holiday with city sightseeing as your main focus, driving around in the scenic mountains that lie close by, hill walking, golfing, or just relaxing in the warm sunshine. Spend a week on the Costa Blanca, and you could easily do the lot!!
The famous resorts that the Costa Blanca is so well known for include of course Benidormwith its endless choice of bars and evening entertainment, but also many other places that cater for the foreign visitor. Altea, with its lovely, old town centre and church is well worth a visit, and Villajoyosa is another gem along this stretch of the coast, with a truly beautiful old town and harbour area. Calpe and Denia are also places maybe not so well known to the British holidaymaker, but they have spectacular beaches, lovely harbours and quaint old town centres as well. Working northwards up the coast, the historical town of Gandia is even less well known to the British holidaymaker, but is the number one holiday destination in Spain for the Spanish themselves – and it is not hard to see why. With a truly spectacular award winning beach, Playa de Gandia is about 3kms away from the main town and boasts a huge choice of restaurants, bars and nightclubs as well as a casino to entertain the visitor. The main town of Gandia itself has lots of high quality shopping, historical sights and a vibrant weekly market to attract people from far and wide.
Go just a little further north, and you come to Valencia City itself. Spain's third city has literally everything to offer the visitor, and most of it all within walking distance. From a fascinating and rich historic centre to stunningly modern iconic architecture, Valencia is a beautiful destination with so much to see, and all set around public gardens that wind right through the whole city, following the bed of the River Turia that was diverted around the town four decades ago.
Villa Florencia is an ideally located base for your Costa Blanca Holiday, just over an hour north of Alicante by car, 40 minutes south of Valencia (or conveniently placed for the train to the city too), and within easy driving range of any of the other places and attractions along the coast or inland. Only minutes away from the A7 motorway, yet set in a completely rural environment near to Gandia town, now is an even better time to come.