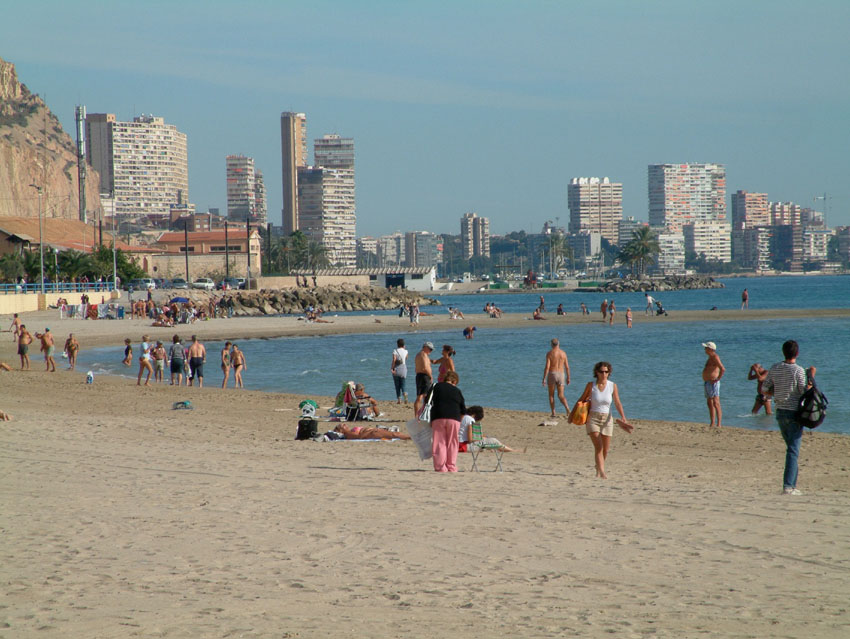 The Costa Blanca makes an ideal holiday destination for all the family, whether you want to sample the delights of Benidorm nightlife, spend your time at leisure on some of the most beautiful beaches in the Mediterranean or enjoy the mountain scenery that lies inland all along this stretch of the coastline.
The Costa Blanca stretches down the Mediterranean coast of Spain practically from Valencia City in the north, down past the towns of Gandía, Denia, Javea and Altea before reaching the most famous of all – Benidorm. South from Benidorm, the Costa Blanca includes Villajoyosa, the city of Alicante, Torrevieja and down to Cartagena. Practically all along this beautiful area of coastline you will find some of the best beaches anywhere and a climate that varies from mild during the winter months to sometimes intensely hot in the height of summer.
Getting there presents no great difficulty either, as the area is served by no less than three airports – Valencia in the north, Alicante, and now increasingly also Murcia in the south. All these airports are destinations for the popular budget and charter airlines from a wide variety of departure points in the UK, so it has never been easier to make the Costa Blanca your holiday destination if you are booking independently.
With a wide choice of accommodation to be found on the internet, you can rent a villa or apartment, book rooms in a hotel or guest house, or of course have the whole thing done for you by booking a package holiday. Last minute holidays are often also to be found on-line, and many a bargain can be had if you have the flexibility to travel mid-week, for example.
Benidorm undoubtedly has the greatest amount of accommodation available in any given resort along the Costa Blanca, and has been trying hard recently to live down its reputation as a lager-lout destination. The old town of Benidorm has lovely winding streets and quaint corners to explore, whilst the modern parts have some of the finest hotels and holiday accommodation you could hope to find anywhere. Add to this, the fact that Benidorm has not one but two of the finest beaches you could wish for, Poniente and Levante, and you can understand why many people come to Benidorm for their holiday and never venture far afield. With bars, cafés, restaurants and nightclubs, as well as the justifiably famous Benidorm Palace Hotel with its excellent cabaret performances, there really is something for everyone, whatever their age. The town also has countless visitor attractions for daytime entertainment if you want a change from lying by your hotel pool or on the beach, with a wide choice of theme parks like Terra Mitica for those who like roller-coaster rides, Aqualandia for water lovers, and Mundo Mar or Terra Natura for animal, dolphin and bird lovers.
However, if you want to stay somewhere else on the Costa Blanca, there are plenty of alternatives to choose from. Moraira to the south is a lovely but less well known spot with the Del Portet beach, sheltered by the headland. A beautiful harbour and marina make Moraira a picturesque holiday destination with lots to do and it's within easy reach of all the other facilities along the Costa Blanca as well. The same can be said for resorts such as Denia, Altea and Calpe which all lie slightly to the north, but which all have superb beaches and plenty of nightlife too.
It is easy to find plenty of travel reviews on line these days if you are considering making any sort of holiday booking, so have a look to see what other travellers have thought of the Costa Blanca as a destination. Whether you feel inclined to sample the more hectic surroundings of Benidorm itself or whether you want to go for an altogether more away-from-it-all experience, there is little doubt that the Costa Blanca can fit the bill perfectly. From culture and the city of Valencia itself, to small mountain villages and remote castles, or from water park madness to sedate natural beauty, the Costa Blanca has it all waiting for you to discover!