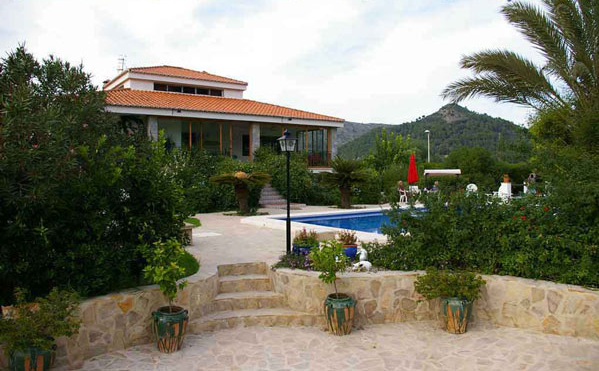 Tel: +34-962-960-400     Mob: +34-697-930-601
email: gandiacasarural.es@gmail.com
Located in the heart of the Valencia orange growing region of Spain, only 3kms outside the town of Gandia, Villa Florencia Casa Rural is set in a rural location amongst verdant citrus groves and commands stunning views of the surrounding mountains.
Your hosts , Nigel and Mark
, run the Villa Florencia  with all of its facilities and comforts like a small country hotel and combine this with a welcoming feeling of informality and relaxation. Our aim is to provide an exceptional standard of individual service to our guests, making them feel that they are in a friendly and informal atmosphere where they can relax and unwind without the usual constraints of a conventional hotel.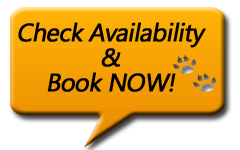 Our accommodation consists of 5 spacious bedrooms (three twins and two doubles) all have air-conditioning and heating, are well furnished and benefit from housekeeping services on a daily basis.  Complimentary tea and coffee making facilities are provided in each room and all have modern en-suite bathrooms with power showers.
The villa also has ample car parking facilities – we would suggest that guests hire a car in order to derive the greatest benefit from the surrounding towns and countryside.
The public rooms include a bar and lounge for the use of all our guests, where – depending on the season – you can either have a refreshing drink after a hard day's sunbathing around the pool, or enjoy your favourite after-dinner liqueur in front of a log fire on the cooler winter evenings.
Breakfast and dinner are both served on the glass-enclosed terrace which has panoramic views of the nearby orange groves and mountains. Outside, the extensive gardens of the villa are generously planted with citrus and palm trees, oleander, jasmine, honeysuckle and many other fragrant and colourful flowering shrubs which provide a superb backdrop for the beautiful 12m swimming pool and secluded sun terraces.
The pool itself has been recently refurbished to a particularly high standard, and features generously sized 'platform-style' steps which make it very easy to get in and out of, as well as providing space simply to lounge around on with the water lapping around you on a hot summer's day!  There is an ample supply of garden furniture and parasols for your use, as well as an outside barbeque and dining area.
For those who wish to venture further afield, Villa Florencia provides an ideal base for daily excursions.
Blue flag award winning beaches are to be found just 8kms away at Playa de Gandia and the facilities of the Costa Blanca resorts such as Benidorm with its theme parks and other attractions are 40 minutes drive away.
Monasteries, caves and numerous picturesque villages await exploration, as well as Gandia town itself with its historic centre and Borgia Palace.
Nightlife is in no short supply either, with a large choice of bars and clubs in Playa de Gandia or an even wider and more eclectic choice in the coastal resorts of the Costa Blanca Spain.
A reliable train service from Gandia
(or a 45 minute trip in the car) takes you to the beautiful Spanish city of Valencia with a whole host of historic buildings and the iconic architecture of the newly constructed City of Arts of Sciences.
Whatever your reason for visiting this beautiful and often overlooked area of Spain, we look forward to seeing you and making you feel relaxed and welcome.